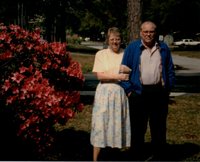 Margaret "Peggy" Neal
Margaret "Peggy" Neal was a God-loving woman with a ready smile, kind heart, and a bright soul. She was always ready to help. Mrs. Neal was born June 25, 1948 and passed away Tuesday, July 18, 2017 at the age of sixty-nine. She was a member of the Pine Grove Baptist Church.
She is preceded in death by her parents, Joe and Mae Scarborough; husband James Neal; grandson, James Gregory; and brother-in-law Albert Neal.
Mrs. Neal is survived by her daughters, Cathy Jones, and husband Qasoran, and Lindsay Neal; sister-in-law, Ruby Neal; brother, Billy Scarborough, nephews, Bill Scarborough, Paul Scarborough, Jason Scarborough, and Sean Scarborough; and nieces, Angie Lowery, and husband Roger, and Gracelyn Scarborough.
Visitation will be Saturday, July22, 2017, from 2 - 5 PM, at Golden Funeral Home. A memorial service will be held at a later date.