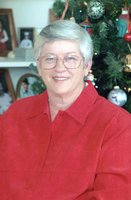 Joan Carolyn Cureington
Funeral services for Mrs. Joan Carolyn Cureington are scheduled for 2 PM, Sunday, July 23, 2017, at the Bonita Road Baptist Church, with Bro. Casey Johnson officiating. Interment will follow in the church cemetery. Visitation will be Saturday evening from 5 - 7 PM at Bonita Road Baptist Church.
Mrs. Cureington, resident of Bastrop, passed away Friday, July 21, 2017, at the age of sixty-nine. She was a member of Bonita Road Baptist Church and a Registered Nurse for many years. She is preceded in death by her parents, Lonnie Lee and Minnie Lou Parker; brothers Huey Parker, Ralph Parker, and Richard Parker; sister, Debra Lanan; and daughter, Carmen Cooper.
She is survived by her husband Leroy Cureington, daughters, Beverly Jones, and husband Lance, and Amy Slade, and husband Steve; brothers, Sam Parker and Shelby Parker; sisters, Eunice Ann, Juanita Fowler, Diane King, and Janice Robinson; grandchildren, Joshua Jones, and wife Alyssa, Emily Morris, and husband Clayton, Lauren Barlow, Jonathan Barlow, and Trevor Cooper; and great-grandchildren, Elijah, Jeremiah, Samuel, Myla, John Clayton, and Milo.
Serving the family as pallbearers will be Cole Cureington, Trey Cureington, Blaise Curengton, Herbie Harrell, Mike Blakely, and Jeff Pearson. Honorary pallbearers are Joshua Jones, Trevor Cooper, Jonathan Barlow.
Memorial contributions may be to St. Jude's Children's Hospital or Gideon's International.