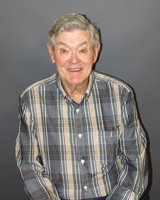 James H. "Jimmy" Arant
Funeral services for Mr. James H. "Jimmy" Arant, age 84, are scheduled for 2 PM Friday, August 11, 2017 at Trinity Assembly of God with Rev. Kenneth Pack officiating. Interment will follow in Pine Grove Baptist Church Cemetery under the direction of Golden Funeral Home. Visitation will be held at Golden Funeral Home Thursday, August 10 from 5 PM until 7 PM.
Mr. Arant, a retired heavy equipment operator at International Paper Company and resident of Bastrop, LA, passed away Monday, August 7, 2017. He was a member of Trinity Assembly of God and a United States veteran during the Korean War.
He is survived by his daughter, Cynthia Louann Edwards and husband Timothy of Port Orchard, WA; son, James Arthur Arant and wife Lisa of W. Monroe, LA; step children, Michael Remagen and wife Darlene of Byron, MI, Deborah Batson of Swartz, LA; sister, Ruby McDonald of Zowalle, LA; eight grandchildren, four step grandchildren, eleven great grandchildren, one step great grandchild and his best friends, (his dogs) Buddy and Lou Lou.
Mr. Arant is preceded in death by his wife, Lilly Arant; parents, Louie and Estelle Arant; son Walter Louis Arant; daughter, Deneen Louise Arant, sisters, Ollie Jane Ratnaza and Marie Tinsley.