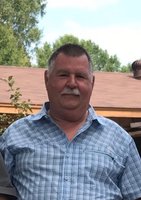 Richard Potter
Funeral services for Mr. Richard Potter, age 65, of Bastrop, LA, are scheduled for 10 a.m. Saturday, October 14, 2017 at Faith Baptist Church with Rev. Bodie Spicer and Rev. Joey Kennedy officiating. Interment will follow in Mer Rouge Cemetery under the direction of Golden Funeral Home. Visitation will be held from 5 p.m. until 7 p.m. Friday at the church.
Mr. Potter passed away Wednesday, October 11, 2017 at his residence surrounded by his family.. He was a member of Faith Baptist Church, loved hunting and fishing, making people laugh, telling jokes and talking with friends and family. He loved his family and friends dearly.
Mr. Potter is survived by his wife, Rhonda Potter; mother, Bessie Potter, children, Kevin Potter and wife Melissa, Chris Potter and wife Niki, Alisha Bolton, Nathan Tullos and Taylor Potter all of Bastrop, LA; siblings, Jerry Potter, Andy Potter, Gloria Reynolds; grandchildren, Kelsea Deere, Krista Sebren, Kason Potter, Cheyenne Potter, Diane Potter, Dakota Potter, Courtney Poole; great grandchildren, Addison Harrell, Alisa Kate Deere, Jonah Lebrun and numerous nieces, nephews and friends.
He is preceded in death by his dad, Percy Potter and a brother, Marshall Potter.
Serving as pallbearers will be his nephews. Honorary pallbearers are: Smiley Morgan and J.D. Carroll.