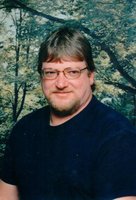 James "Ernie" Shockey
Funeral services for Mr. James "Ernie" Shockey are scheduled for 2 PM, Monday, November 13, 2017, at the chapel of Golden Funeral Home with Bro. Jerry and Sis. Rita Stuckey officiating. Visitation will be from 5 - 7 PM, Sunday, November 12, at Golden Funeral Home.
Mr. Shockey, a retired foreman of Ashley Furniture Company of Ripley, MS, and a current resident of Bastrop, passed away Thursday, November 9, 2017, at his residence at the age of fifty-six. He is preceded in death by his grandparents.
Survivors include his parents, Cleo and Helen Shockey; sons, Dustin Bryan Shockey, of Shreveport, LA, and James Keith Shockey, of Ft. Polk, LA; sister, Stacey Conville Brown, and husband Craig, of Bastrop; brothers, Steve Shockey of Mer Rouge and Dave Shockey and wife Karen of Wilsall, MT; and one grandchild, D. J. Shockey, of Shreveport, LA.
He was a member of the Tillou Baptist Church and enjoyed fishing, football, and NASCAR. He also had served as a deputy of the Morehouse Parish Sheriff's Office and also worked at the prison in Collinston.