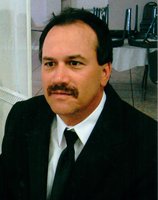 Russell Edward Green
Funeral services for Mr. Russell Edward Green, age 55, are scheduled for 2 PM Wednesday, November 15, 2017 in the chapel of Golden Funeral Home with Rev. Britt Dupree and Bro. Phillip McCready officiating. Interment will follow in Carter Cemetery.
Mr. Green, a retired owner of a glass business and member of Bonita Road Baptist Church.Mr. Green also attended Bonne Idee Assembly Church. In his death he saved the life of three people who were the recipients of his generous organ donation.
He is survived by his mother, Barbara Smith and her husband Tommy; children, Jon Russell Green and wife Kelsi, Colby Hunter Green, Jaisley Green, Ali Rookard and husband Austin; sisters Jan Gentry, Jo Daugherty and husband Jerry, Leslie Jones and husband Roger; grandchildren, Jack Rivers Green, Brayden Golden, Addyson Jordan, Tesley Green, Hunter Bryan, Lillian Rookard and a special aunt, LaNell Middleton and husband Fred.
Mr. Green is preceded in death by his father, Paul Edward "Ed" Green; grandparents, Viola Green, Paul Evans "Skip" Green, Lois Davis and John Rials.
Serving the family as pallbearers are; Ernie Heckford, Chris Reppond, Larry Carter, Dewayne Bagby and Toney Charles. Honorary pallbearers is Larry Gray.
Visitation will be held Wednesday from 12 noon until 2 PM service time.