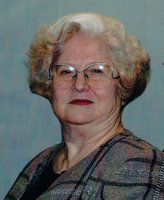 Ruby Lucille Herring
Funeral services for Mrs. Ruby Lucille Herring, age 83, are scheduled for 2 PM Thursday, November 16, 2017 at Bonita Road Baptist Church with Bro. Casey Johnson, Bro. Ricky Hall and Bro. Marty Black, as well as her sons, Bro. Kenneth Herring and Bro. Jimbo Herring officiating. Interment will follow in Bonita Road Baptist Church Cemetery under the direction of Golden Funeral Home.
Mrs. Herring was a member of Goodwill Baptist Church and also a long-time member and pastor's wife at Bonita Road Baptist Church. She was a beloved wife, mother, grandmother, and great grandmother. Mrs. Herring was a wonderful servant of God as she served as a pastor's wife, Sunday School teacher and spiritual mentor to many people.
She is survived by daughters, Connie Kitchens and husband James, Debbie Rawls and husband Rocky, Teresa Dance and husband David; sons, Bro. Kenneth Herring and wife Donna, Bro. Jimbo Herring and wife Beth; sister, Mary Johnson and husband Odell; brother-in-law, B.W. Herring; eighteen dear precious grandchildren, thirty-eight great grandchildren and a host of nieces and nephews.
Mrs. Herring is preceded in death by her husband, Bro. Jimmie Herring; parents, Jeff and Beatrice Foster; sister, Lula Mae Prine; brothers, Waymon Foster and Jeff Foster, Jr.
Serving the family as pallbearers are grandsons, Jonathan Dance, Brad Kitchens, Caleb Rawls, Matthew Herring, Daniel Herring and Andrew Herring.
The Deacons of Bonita Road Baptist Church will serve as honorary pallbearers.
Visitation will be held Wednesday, November 15 from 1 PM - 8 PM at Bonita Road Baptist Church.