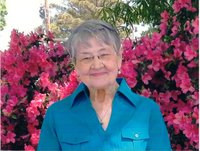 Hilde Boyd
Hilde Boyd passed away February 1, 2018. She was born October 22, 1925 in Munich, Germany. She came to the United States with her small daughter in 1950. Mrs. Boyd was a war bride and was left alone with her daughter after arriving here in the U.S. Even though she didn't know the English language very well, she worked hard and managed to make a life for herself and daughter. She worked in the surgery department at St. Francis Hospital in Monroe, LA and retired after 33 years.
Mrs. Boyd is survived by her husband Donald Boyd of Collinston, LA; her only child, Evelyn Kraemer and spouse Robert of Frankston, TX; step-daughter, Stephanie Edwards and spouse Michael; two step grandchildren, Caleb and Seth of West Monroe, LA; three grandchildren, Scott Mann of Karnack, TX, Kimberly Head of Waskom, TX, and Randy Frost, Jr. Of Shreveport, LA; numerous great and great great grandchildren.
She was a lover of all animals and took in many a stray and gave them a loving home. She also enjoyed gardening and having beautiful flowers in her yard. Mrs. Boyd was a very giving person and never hesitated to help anyone in need. She will be missed mightily by all who knew and loved her.