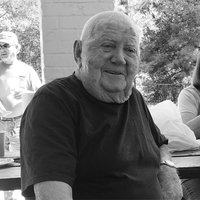 Kenneth Doyle Cupples
Funeral services for Mr. Kenneth Doyle Cupples, age 77, of Bastrop, LA, are scheduled for 2 PM, Tuesday, February 6, 2018, at Golden Funeral Home, with Bro. Joey Kennedy officiating. Interment will follow in Christ Church Cemetery. Visitation will also be held at Golden Funeral Home on Monday, February 5, 2018, from 5 PM - 8 PM.
Mr. Cupples, a long-time car salesman and business owner, passed away Friday, February 2, 2018, at St. Francis Medical Center, surrounded by his family. Kenneth was a family man. His greatest treasures were his wife, children, grandchildren, and great-grandchildren. His laugh was contagious; he could light up an entire room with his presence. His lifetime passion was vehicles and he was selling cars even in his final days.
He is preceded in death his parents, Orvil and Edna Cupples, son, Jimmy Cupples, Sr., brother, James Cupples, sister and brother-in-law, Gene and Ruth McCarver.
He is survived by his wife of thirty-nine years, Kathleen; children Teresa (Bill) House, Todd (Cindy) Rainbolt, Doug (Alice) Rainbolt, and Karen (Timothy) Williams; a sister, Cathy Barker; brothers, Jerry (Judy) Cupples, and Wade (Becky) Cupples; grandchildren, Jimmy Cupples Jr., Mandy (Luke) Early, Jamie Cotton, Tiffany Crumley, Brittanie Rainbolt, Lacie Chapman, Laura (Jacob) Thames, Heather (Adam) Deshazo, Jeremy (Becky) Rainbolt, Addison Williams, and Mallory Williams; great-grandchildren, Levi Early, Kamden Early, Ayven Cupples, Landon Cupples, Emma Kate Thames, Bella Cotton, Kalii Ramirez, Jordyn Albertie, Chloe Chapman, and Aiden Deshazo. Kenneth also leaves a host of friends and extended family, as well as his two dogs, Dober and Odie.
Serving as pallbearers will be Glen Cook, Rufus Edmonds, Jr., Clarence Hogan, Dewey Jones, Ronnie Tubbs, and Zane Tubbs. Honorary pallbearers include Daniel Dodd, James Harris, Larry Kelley, Fred Middleton, Gary Rainbolt, and James "Buddy" Williams.
Memorial contributions may be made to the Shriner's Hospital in Shreveport.