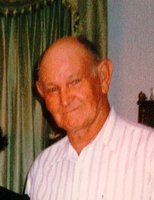 Willis "Buck" Porter
Funeral services for Mr. Willis "Buck" Porter are scheduled for 2:00 PM, Friday, February 9, 2018, at Golden Funeral Home, with Bro. Bobby Porter officiating. Interment will follow in the Carter Nicholson Cemetery. Visitation will be Friday, from 12:00 noon, until 2:00 PM service time. Mr. Porter, a resident of Bastrop and a retired house mover, passed away Sunday, February 4, 2018, at the age of ninety-four. He loved moving houses, hunting, fishing, and gardening.
Mr. Porter is preceded in death by his parents, Willis Kenneth and Sarah Elizabeth Porter; sisters, Lillie Craig and Ola Jones; brothers, Woodrow Porter and Bill Porter; and three grandchildren, Jeff Laing, Cindy Owens, and Brad West.
He is survived by his wife of seventy years, Martha Porter, children, Barbara Porter, Dean Porter, Carolyn Maddox, Ralph Porter, and wife Cindy, and Susie Owens, and husband Charles, all of Bastrop; twelve grandchildren; thirty-three great-grandchildren; ten great-great-grandchildren; and numerous nieces and nephews.
Mr. Porter's grandsons, Randy Porter, Shawn West, Derek Ouellette, David Porter, Douglas Evans, and Donnie Paxton, will serve the family as pallbearers.