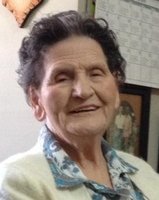 Lillie Louise Womack Sanders
A celebration of the life of Lillie Louise Sanders, 91 of Bastrop, will be held at the chapel of Golden Funeral Home on Wednesday February 14, 2018, at 1:30 p.m. with Bro. Carroll Austin officiating. The family will receive visitors beginning at 12:00 p.m. up until time for the service. Burial will follow in Oak Grove Cemetery.
Mrs. Sanders was born on March 21, 1926, and passed from this life on Sunday, February 11, 2018. She was a faithful Christian and loved the Lord with all her heart. She was a member of Cherry Ridge and the First Church of God of Bastrop. Mrs. Sanders was a loving mother, grandmother, great-grandmother, and great-great grandmother. Her family was her life.
Mrs. Sanders is survived by seven children, Delois Austin and husband Carroll of Kingsland, AR, Lynn H. Sanders and wife Edna, Linda H. Bonner, Donna G. Hunt and husband Billy, all of Bastrop, Wanda Johnson and husband Donald of Beaufort, S.C., Robin Wallace and husband Donald and Terrie Robinson and husband Mark all of Bastrop; two sisters Sally Boykin of Natchez, MS and Willie Floy Kennedy of Bastrop; 18 grandchildren, 35 great-grandchildren and 3 great-great-grandchildren.
Mrs. Sanders was preceded in death by her husband of 60 years James D. Sanders, her father John Womack, her mother Blanche Womack, brothers Willard Womack, Ross Womack, Leo Womack, Logan Womack and Shelby Womack, and one grandson Wade Bonner.
Serving as pall bearers will be her grandsons.