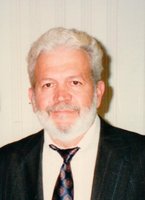 Thomas Robert ""Tommy"" Lewis
Funeral services for Mr. Thomas Robert "Tommy" Lewis, age 74, are scheduled for 2 PM Thursday, February 15, 2018 at Bethel Baptist Church with Bro. Tim Post officiating. Interment will follow at Beekman Cemetery.
Mr. Lewis, a retired employee of International Paper Company and member of Bethel Baptist Church, passed away Monday, February 12, 2018. He was a Master Mason of the Grand Lodge of Louisiana F&AM Tallulah, Chapter 308. Mr. Lewis was an avid hunter, fisherman and was a United States veteran in the Air Force as Airman First Class E-4. He served in Vietnam, receiving the Vietnam service medal and numerous other medals as well.
He is survived by his wife, Wanda Lewis; children, Robbie Renee' Milbert and husband Michael, Paula Elizabeth Todd and husband Richard, Darren Lane Lewis and wife Labreeska, Shannon Denean Garlington and husband Todd; brother and sisters, Betty Jo Johnson and husband Don, Diane Hudson and husband Hinkston, Benny Mac Lewis and wife Glennis, Deborah Kay Worley and husband Jimmy; grandchildren, Kendall Todd Hardwick, Kaiden Storm Garlington, Caroline Elizabeth Todd, Robert Colvin Todd, Nathan Scout Garlington, Jared Abrahm Milbert, Brittney Danielle Lewis and Emma Alexes Milbert.
Mr. Lewis is preceded in death by his parents, Thomas Jefferson and Emma Elizabeth Lewis and sister, Sharon Lewis.
Serving the family as pallbearers are Kaiden Storm Garlington, Nathan Scout Garlington, Robert Colvin Todd, Jared Abrahm Milbert, B.J. Lewis and Hunter Lewis.
Honorary pallbearers will be Jimmy Worley, Hinky Hudson, Don Johnson, Keith Johnson, Jamie Worley, Joe Bob Johnson and Ray Wilkerson.
Visitation will be held Wednesday, February 14, 2018 from 5 PM - 7 PM at Golden Funeral Home.
Memorial contributions may be made to St. Jude Children's Research Hospital at 501 St. Jude Place, Memphis, TN 38105.