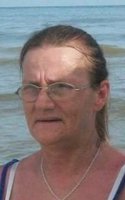 Peggy Ann Goldsberry
Peggy Ann Goldsberry, a homemaker, born October 5, 1956, passed from this life at home on February 25, 2018, after a lengthy illness. She was a fighter and fought fiercely until her very last breath.
Memorial funeral services are scheduled for 11 AM Saturday, March 3, 2018 at North Bastrop Church of God with Rev. David Sistrunk officiating.

Mrs. Goldsberry was a mother, grandmother, great grandmother, sister, daughter, aunt and friend to so many. Anyone that knew her, knew that she loved her family immensely.
Mrs. Goldsberry is survived by her children, Dayna Duplissey and husband Steve of Bastrop, Dawna Young and husband Terry of Sterlington, Darla Leonard and husband William of Collinston, Quincy Evans and fiancé Ashley Smalling of Sterlington, and Wilbor Evans and wife Ashley of Monroe; grandchildren, Katie George, Linda Hall, Benjamin Hogan, Miranda Duplissey, Courtney Kitchens, Victoria Hogan, Donavon Evans, Ethan Leonard, Malachi Evans, Emilee Leonard, Alyssa Young, Michael Evans, Emmagail "Half Pint" Evans, Ross Duplissey, Brennan Leonard, Montana Armfield, Jessica Eppinette, and Micah Young; great grandchildren, Bentley Hall, Bryce Hall, Jordan Duplissey, Chandler James, Nehemiah Allen Roberts; sisters, Debra Ritchie and husband Heinz of Sugar City, CO, Karen Wilson and husband Joe of Crossett, AR; brother, Allen Calhoon and wife Kelly of Boone, CO; special friend, Keith Nations and many nieces and nephews that she loved dearly.
She is preceded in death by her husband, Michael Clark Goldsberry; parents, Wilbur and Lorraine Calhoon; brother, Danny Calhoon; uncles, Clarence Calhoon, Gene and Ronald Miles; grandchilren, Marcus Shawn Hogan, JR., and Christian Evans.
The family would like to thank the nurses and staff from Stat Home Health and St. Joseph Hospice.