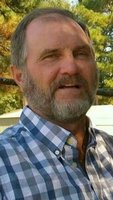 James "Wade" Carruth
Funeral services for Mr. James "Wade" Carruth, age 63, of Bastrop, LA, are scheduled for 10 a.m. Wednesday, March 7, 2018 at the Chapel of Golden Funeral Home with Rev. Allan Eppinette officiating. Interment will follow in the Carter Cemetery. Visitation will be held from 5 p.m. until 7 p.m. Tuesday at Golden Funeral Home.
Mr. Carruth, a retired construction worker and member of the Baptist faith, passed away Monday, March 5, 2018 at his residence. He loved fishing, hunting and taxidermy work. He was an excellent carpenter and enjoyed spending time with his family, especially his grandchildren.
Mr. Carruth is survived by his wife of 35 years, Dottie Fulmer Carruth; daughter, Lindsey Culpepper of Bastrop, LA; two sons, James Matthew Carruth and wife Katie of Bastrop, LA, Damon Carroll and wife Kim of Bastrop, LA; five grandchildren, Dylan Carroll, Austin Carroll, Hunter Aaron, Kade Aaron, Sawyer Jane Carruth; mother, Irene Storm; two sisters, Alice Carruth of Monroe, LA, Linda Dimaya of New Iberia, LA and a brother, Monty Carruth and wife Karen of Bastrop, LA.
He is preceded in death by his father, Everett Carruth.
Serving as pallbearers are: Keith Fulmer, Kris Fulmer, Frank Fulmer, Justin Sanders, Darren Cooper and Jason Sanders.
Honorary pallbearers will be Paul Sanders, Luke Hester, Rusty Sanders, John Coats, Gary Castleberry, Wade Fulmer, Harry Fulmer and Ricky Cox.