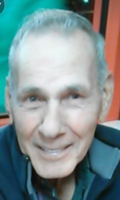 Basil Sanderson
Funeral services for Mr. Basil Sanderson, age 83, of Bastrop, LA, are scheduled for 10 a.m. Friday, March 16, 2018 at the Chapel of Golden Funeral Home with Rev. Norman Bryant officiating. Interment will follow in the Red Wing Cemetery near Goodwill, LA. Visitation will be held from 6 p.m. until 8 p.m. Thursday at Golden Funeral Home.
Mr. Sanderson retired as a Biologist for the Louisiana Department of Wildlife and Fisheries and a Deputy for the Morehouse Parish Sheriff's office. He was an avid hunter and fisherman; loved wildlife and being outdoors. He served his country in the United States Army's Intelligence Division during the Korean War. Most of all he loved his family dearly.
Mr. Sanderson is preceded in death by his parents, Henry and Nancy Sanderson and multiple brothers and sisters.
He is survived by his four daughters, Anne Sanderson of Florida, Charyn Sanderson of Farmerville, LA, Konni Sanderson Bryan of Monroe, LA, Dianne Sanderson Garceau of Shreveport, LA; sons, Robert Wayne Sanderson who resides in Spain and Scott Plumley of Swartz, LA; two sisters, Irene Sanderson Dever of Galveston, TX, Sandra Sanderson Vaillancourt of Texas; three brothers, Dale Sanderson of Calhoun, LA, Jerry Sanderson of West Monroe, LA, Travis Shelby Sanderson of Austin, TX; eleven grandchildren, Charyn's children: Joel Myers, Chasey Dibble, Michelle Whitaker, Jonothan Whitaker, Sarah Whitaker; Konni's children: Jonathan Bryan, Jordan Bryan, Katlyn Alexander, Dianne's children, Travis Garceau, Morgan Garceau; Wayne's son, Thorian Sanderson; Scott's children, Greg and Kristen Plumley; great grandchildren, Stella Dibble, Vivianne Dibble, Joseph Daniel Whitaker, Felicity Michelle Whitaker, Stephen Whitaker, Gabriella Whitaker, Eric Whitaker, Annabelle Whitaker, Grace Whitaker, Orin Whitaker, Charlee Pennington and Billie Pennington.
.