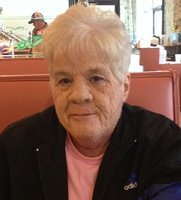 Margie Pardue
Graveside funeral services for Mrs. Margie Pardue are scheduled for 2:00 p.m. Thursday, March 15, 2018, at Dry Bayou Cemetery in Wilmot, AR, with Rev. Bobby White officiating. The visitation will be held from 10:00 a.m. until 1:00 p.m. Thursday at Golden Funeral Home.
Mrs. Pardue, a homemaker and resident of Fulton, AR, (formerly of Bastrop, LA) passed away Sunday, March 11, 2018, at the age of 75. She was a member of the Ladies Auxiliary of the American Legion where she loved playing bingo. Mrs. Pardue was very loved and she will be missed by many.
She is survived by her daughter, Hope Lynn of Bastrop, LA; sons, Timothy Lynn and wife Angela of Tremont, MS, and Joey Lynn of Tremont, MS; brothers, Robert White and wife Joyce of Start, LA, George White and wife Syble of Callion, AR, and Jerry White and wife Jan of Mer Rouge, LA; grandchildren, Cody Lynn, Micheal Lynn, Courtney Lynn, Megan Jones and Aaron Jones; great grandchildren, Laysia Jones, Wyatt Brown, Willow Brown and Amelia Lynn; special friends, Linda Hill and Chuck Sims and a host of family and friends.
Mrs. Pardue is preceded in death by her parents, Mr. and Mrs. Charles White; brothers, Charles White, JR., Richard White, William White, Oscar White and Don White; sisters, Jo Ann Francisco and Grace White.