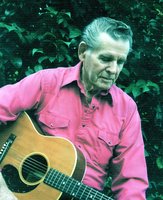 Charles "Cat" Canfield
Mr. Charles "Cat" Canfield, age 90, retired Legislative auditor for the State of Louisiana, passed away suddenly and peacefully Saturday, March 17, 2018. A Graveside Celebration will be held from 11 AM until 12 Noon Thursday, March 22, 2018 at Memorial Park Cemetery in Bastrop, LA with family and friends.
Mr. Canfield was a member of the Memorial United Methodist Church. He served in the Navy during the Korean War. He enjoyed his McDonalds and Super One coffee drinking friends, which he visited daily. He often reminisced about playing at the Louisiana Hayride with Elvis Presley, opening for Ernest Tubbs, and his time stationed in Guam. He spent his last years promoting his music heavily; and even started his own youtube channel under his stage name of Charlie Cat Canfield. He was an Akademia Award winner for Best Country Song entitled "Dallas and a Country Song." He always seemed to write a song with any current headlines such as: "Hurricane Sandy," "Ms. America Lost her Smile," and recently was working on cover song "Phone in Heaven" since the passing of his beloved wife 5 months ago.
Through "Canfield Music Publishing Company" he release several vinyl records and three CDs entitled: The Greatness of God, Heartland-USA, and Faith, Love, & Hope.
He is survived by his daughters, Donna Canfield Anderson and husband Lindsay of Calhoun, LA, Cathy Canfield McCoy and husband Glenn of West Monroe, LA; son, Owen D. Canfield of Crossett, AR; sister, Wanda Lane and husband Nelson of West Monroe, LA; grandchildren, Robert Neal Ryder and wife Chelsea, Luke Hays; and his little dog, Ellie-Mae. He also leaves behind his mentor, super-fan and promotional music partner, Wayne Freeman.
Mr. Canfield is preceded in death by his wife Ollie Faye Turnbow Canfield.
In lieu of flowers, the family requests that memorial donations be made to Memorial United Methodist Church of Bastrop.