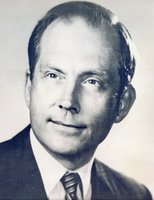 Merwin McGehee Brandon, Jr.
The Honorable Merwin McGehee Brandon Jr., retired Bastrop City Court Judge, passed away peacefully on March 18, 2018 with his wife of 62 years, Martha Evelyn Peninger, at his side. He was preceded in death by his parents, Merwin McGehee Brandon and Frances Bahin Brandon. He is survived by his wife, two daughters, Martha McBride Brandon (David E Stanley), Frances Brandon Spires (John Gates Spires), two sons, Merwin McGehee Brandon III (Kathleen Balhoff Brandon) and John Peninger Brandon (Joanna Sims Brandon), ten grandchildren, Morgan S Hilyer (Brandon M Hilyer), Sarah M Spires, William G Spires, Arcole S Brandon, Eva R Brandon, Ravenna R Brandon, Lindsay E Brandon, Eleanor C Brandon, Elizabeth L Brandon, and Merwin M Brandon IV and two great-grandchildren, Aubrey and Taylor Hilyer, as well as many other family members and friends.
Merwin was born on May 27, 1935 in Stamford, Connecticut. As a young man, he learned to sail and ice skate and was an avid ice hockey defenseman and spent many hours and days on Long Island Sound plying the water. He graduated from Darien High School as Class President and attended Columbia University. He graduated and married in 1957, moved to Louisiana and attended the Louisiana State University Paul M Hebert Law Center graduating with honors in 1961. Merwin was a member of Phi Delta Phi and was a member of the Student Board of the Louisiana Law Review. After graduation from LSU, he spent two years as a Law Clerk for the State of Louisiana Attorney General. Upon completion, he moved from Baton Rouge, LA to Bastrop, LA, the childhood home of his wife, to join the law firm Madison, Madison, Files & Shell and was admitted as a partner several years later. He was admitted to the Louisiana Bar Association and was admitted to practice before the United States District Court, The United States 5th Circuit Court of Appeals, and the United States Supreme Court. After 26 years with the law firm, his love of the law and its basic tenet of equitable treatment for all moved him to pursue public office. He was elected judge of the City Court of Bastrop in November 1984 and served four terms (26 years) with compassion and fairness before his retirement in 2009. The Judge attributed much of his success in office to the devoted and loyal staff of the Bastrop City Court who always went the extra mile. He was a member of the Louisiana Bar Association and the Louisiana Judges Association. He was instrumental in the establishment of Prairie View Academy, a PreK-12 school, serving on its inaugural Board of Directors. Merwin had numerous and varied interests and hobbies. He was passionate about the outdoors, shooting sports, sailing, and flying and was quick to share these passions with his family and friends.
Over the years, Merwin was active in the community and with civic affairs. He was instrumental in establishing a program of firearm safety and marksmanship in the local school district and he was proud to have trained several local residents in marksmanship prior to their service in the military, several of whom thanked him for the invaluable training upon their return from active duty. He was never happier than when on the shooting range or a sailboat, usually instructing others on safety and proper technique. He fervently believed in personal liberty and was a staunch proponent of the second amendment of the US Constitution. He was a life member of the National Rifle Association, President of the Louisiana Shooting Association for many years, and served on the American Bar Association second amendment committee for prevention of gun violence. An avid and excellent marksman, Merwin competed several times at the National Matches in Camp Perry, Ohio. He loved the outdoors and was active in the Boy Scouts serving on the local Executive Council and sponsoring and supporting a local BSA Explorer post which competed in canoe racing in Louisiana and Arkansas. Both in his youth and as an adult, Merwin enjoyed spending time at his family property in Pinckneyville, Mississippi including hiking, hunting deer and turkey, and enjoying the fellowship and gourmet cuisine at the hunting camp. Merwin also loved the seashore, and from the time he arrived in Bastrop, the family took an annual summer trip to Gulf Shores, AL to explore the many wonders of the beach and the Gulf of Mexico. He loved to travel and enjoyed seeing the majesty and beauty of the United States. He was especially fond of the Grand Canyon which he visited several times and in 1974 organized a trip for six local Boy Scouts and a friend to hike from the South Rim of the Canyon to the North Rim and back. Merwin was also an avid pilot and with his co-pilot, Martha, flew to numerous destinations in the US. Most of all, Merwin was a wonderful husband, father, grandfather, and great-grandfather. He possessed a sharp wit and, like his father, loved a good pun, and was always eager to debate a topic in which he had interest. He would occasionally take a contravening position just to stimulate a good debate. Merwin served the First Presbyterian Church as an Elder and Deacon for many years and was a Shriner, a 32nd degree Mason and Past Master of the Mt. Gerizim Lodge #54. He was devoted to his family and will be dearly missed by those who had the good fortune to know him.
Memorial donations should be made to the Morehouse Humane Society or a charity of your choice. Visitation will be held on Saturday, March 24th from 4:00 pm to 6:00 pm at Golden Funeral Home, 2016 East Madison Street, Bastrop, LA 71220. A private family memorial service followed by inurnment will be held at a future date. The family would like to thank all the wonderful people who so graciously helped them in caring for the Judge including Dr. Allen Spires, Dr. E. D. Baker, Dr. Joseph Reynolds and the Wound Care clinic nurses, Haven Home Health nurses Karen Diel, Stacey Christmas, Teri Watts, and Nancy Brothers and personal caregivers Alan Myles and John Davis.