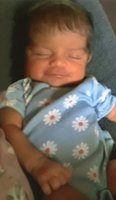 Arabella Gracia Lopez
Arabella Gracia Lopez, a resident of Monroe, LA, passed away Sunday, March 25, 2018. She is survived by her parents, Filiberto and Krystal Lopez; brothers and sisters, Ducatti Yarbrough, Aaliyah Sanchez, Isaiah Lopez and Abijah Lopez; grandmother, Cathy Petty; great grandmother, Sherry Petty; and uncle, Dustin Robertson.
Private family services will be held at Redwing Cemetery at a later date.