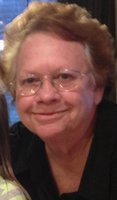 Peggy Ann Lusby Johnson
Funeral services for Mrs. Peggy Ann Lusby Johnson, age 74, are scheduled for 11 AM Saturday, April 7, 2018 in the chapel of Golden Funeral Home with Mr. Bob Turner officiating. Interment will follow in Carter Cemetery.
Mrs. Johnson, a member of Central Church of Christ, passed away Wednesday, April 4, 2018. She was a Board Certified Social Worker for the Morehouse Parish School Board with nineteen years of service. Mrs. Johnson was a wife, mother, grand mother and great grand mother. She loved reading and fishing. Mrs. Johnson graduated from Northeast Louisiana University with a Bachelor in Social Work and then went on to graduate from Louisiana State University with her Master Degree in Social Work.
She is survived by her daughter, Pamela Stokes and husband Bobby of Bastrop; son, Charles "Chuck" Johnson, Jr and wife Debby of Brightonwood, VA; sisters, Jeanette Lusby Brennon and husband Jack of Swartz, LA, Nora Lee Lusby of Bastrop, Polly Sue Mayers of Pioneer, LA; grandchildren, Daisy Mills and husband Don, Vinson Stokes, Kristy Smith and husband Tommy, Hartley Doyon and husband Donnie, Brance Stokes; nine great grandchildren; sister-in-law, Barbara Jean Sisson and two life time friends, JoAnn Lewis and Faye McMullan.
Mrs. Johnson is preceded in death by her husband, Charles E. Johnson, Sr.; parents, Frank and Evie Lee Lusby; brothers, Frank "Sonny" Lusby, J.D. Lusby, Paul Lusby; granddaughter-in-law, Jennifer Stokes; sisters-in-law, Louise Lusby and Patsy Lusby.
Serving the family as pallbearers will be Calvin Lusby, Tommy Sowyers, Lee Jones, Scott Travis, Leonard McMillan and Ricky Johnson.
Visitation will be held Friday, April 6, 2018 from 5 PM - 8 PM at Goldens.
The family would like to give thanks to Premier Hospice for their great care of Mrs. Johnson.
In lieu of flowers donations may be made to Central Church of Christ at P.O. Box 34, Bastrop, LA 71220 or Bastrop Church of Christ at P.O. Box 22, Bastrop, LA 71220.