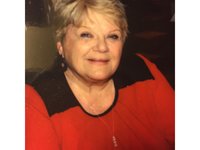 Brenda Sliger Brown
Funeral services for Ms. Brenda Sliger Brown are scheduled for 2:00 P.M. Friday, January 19, 2018, in the chapel of Golden Funeral Home. Bro. Bob Turner will officiate. Interment will follow in Roselawn Memorial Gardens in Calhoun, LA at 4:00 P.M. The visitation will be held from 12:00 P.M. until 2:00 P.M. service time Friday.
Ms. Brown, a resident of Bastrop, LA, passed away Monday, January 15, 2018, at the age of 70. She retired as a Medical Transcriptionist and was a member of Bastrop Church of Christ. Ms. Brown loved her family, especially the grandchildren and great grandchildren, her church and cruising. Brenda had a zest for life and loved entertaining her family and friends with her passion for music, movies, literature and of course, her world famous humor. Though she never got to write the book she'd always promised us, all who knew Brenda would agree: it would have been a number one best-seller.
Ms. Brown is survived by her sons, Chad Sliger and wife Amy and Josh Brown; step-son, Patrick Miller; sister-in-law, Bonnie Sliger; grandchildren, Taylor Sliger, Brennan Brown, Jordan Brown, Lennon Sliger and step grandson, Neal Miller; great grandchildren, Melina Sliger and Jude Buss and a host of dearly devoted friends whom she considered family.
She is preceded in death by her parents, James and Kathleen Sliger; son, Jeremy Brown; husband, Glenn Brown; brother, James Herbert Sliger.
Serving as pallbearers will be Richard Reynolds, Charles Matheny, Jason Sliger, Andy Anderson, Ricky Grimmett and Jeff Maxwell.