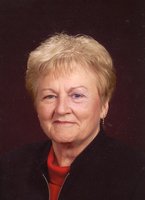 Pauline Lee Fife
Pauline Lee Fife left this world for her Heavenly Home on Saturday, July 21, 2018. She was a resident of Lagniappe Nursing Home for the last 10 years. She was a Friend to the Residents, the Staff and the multitude of Visitors that entered the doors on a daily basis. She always had a smile and kind words of encouragement for everyone she met, and of course, those of us blessed enough to know her, know that she was always ready to tell anyone who would listen, and some who wouldn't, about her Lord and Savior.
Mrs. Fife was preceded in death by her husband of 35 years and the Father of her Children, W. E. Lee. Many years later she married James Fife and they had many happy years together before he also preceded her in death.
Mrs. Fife was also preceded in death by two of her Sons, Jerry and Rodney Lee, and by her Step Son, Mike Fife, her Step Grandson, Allen Fife, and her Great Granddaughter, Sarah Elizabeth Taylor.
Mrs. Fife is survived by her two Daughters, Beverly Lee of Shreveport, LA and Paulette Griffith and Husband James, of Bastrop, LA, as well as a Step Daughter, Ruth Ellen Edwards and Husband Richard, of Crossett, AR.
She is also survived by three Sons, Alvin Lee and Wife Gail, of Pontotoc, MS, Dannie Lee and Wife Brenda of Bastrop, LA and Donald Lee, a resident of Lagniappe. Mrs. Fife is survived by numerous Grandchildren, Great Grandchildren and Great Great Grandchildren, as well as a multitude of Family and Friends.
She was a truly remarkable Christian Lady who loved her Family, her Church, her Friends and especially her Lord.
She will be laid to rest, Monday, July 23, 2018 at 2:00 PM at Golden Funeral Home with Bro. Allan Eppinette and Bro. Todd Mattice officiating the service. The Family will receive Visitors from 12:30 PM to 2:00 PM
Our Family wishes to offer our sincerest appreciation to the Staff of Lagniappe and Premier Hospice for the care given to our Momma.