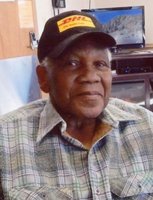 James E. Jones, Sr
Funeral services for Mr. James E. Jones, Sr, age 74, are scheduled for 1 PM Saturday, January 19, 2019 in the chapel of Golden Funeral Home with Rev. Ricky Pack officiating. Interment will follow in Westview Cemetery (Crossett, Arkansas).
James Edward Jones, Sr. was born on January 7, 1945 to Earline I. Jones in Mer Rouge, Louisiana. He then moved to Oakland, California, where he met his soul mate and later accepted Jesus Christ as his Lord and Savior.
He moved to Milpitas, California, where he became a construction worker of nine years. In 1977, he moved to Crossett, Arkansas, where he became a worker at Georgia Pacific Plywood Mill, where he permanently resided.
Mr. Jones retired from Georgia Pacific with over thirty years of service. He departed this life Saturday, January 12, 2019, at Baptist Health Medical Center, in Little Rock, Arkansas. He was a member of New Life Church in Crossett, Arkansas.
Mr. Jones was a jack of all trades, who loved to do mechanic work, construction, landscaping, working on antique cars, and spending time with family and friends.
He is survived by his wife of fifty-one years, Mary Jones; daughter, La Tanya Jones and husband Craig Bunton; son, James Edward Jones III; brothers, Bishop Curtis Doakes, Sr. and wife Annie R. Doakes of Seattle, Washington, andTheddus Jones of Bastrop, Louisiana; sisters, Maple Jones, of Bastrop, Louisiana, Debra Jones, and Clemensteen Jones, both of Portland, Oregon; grandchildren, Niesha Lewis and husband Robert Scott, and Julisa Jones, both of Sterlington, Louisiana, Lavon Ivory, Isaiah Bunton, and Javonte' Jones, all of Crossett, Arkansas; great-grandchildren, Jashaun Shields, Tre'Vion Scott, Ryan Scott, and Markwan Scott and a host of nieces, nephews and other family and friends.
Mr. Jones is preceded in death by his mother, Earline I. Jones; brothers, Robert Taylor, Thomas Jones, Glenn Jones, and Henry E. Jones; and great-granddaughter, Ry'Leyah Scott.
Serving the family as pallbearers will be Ricky Trailer, Jerry Rodger, Man Black, Jessie Kimbell, Tony Grayson, Sherman Conley, and Robert Scates.
Honorary pallbearers are Sherman Gill, Craig Bunton, Ray Lewis, Josh Locke and Mark Carter.