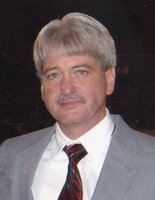 James R. Madison
Funeral service for Mr. James R. Madison, age 61, of Bastrop, LA are scheduled for 2 PM Friday, January 18, 2019 in the chapel of Golden Funeral Home with Bro. Glen Edmondson officiating. Interment will follow in Bonne Idee Cemetery.
Mr. Madison passed away Tuesday, January 15, 2019 in West Monroe, LA. He was a member of the American Legion and was the second best pool shooter in Louisiana, behind his son, Brad. Mr. Madison loved the Saints and LSU football and he enjoyed riding around listening to music, he was a true country music fan.
He is survived by his fiancee' Elaine Miller; son, Brad Oliver Madison of West Monroe, LA; daughters, Casey Madison Nicholson and husband Jonathan of Morgan City, LA, Amber Lee Madison of Monroe, LA; sisters, Ina Bea Blackwell and Jimmie Tatum ; brother, Allen Wayne Madison, all of Texas; grandchildren, Ridge Madison, Lillian Madison, Avery Nicholson, Judson Nicholson; and numerous nieces, nephews and cousins.
Mr. Madison is preceded in death by his parents, Byran and Oma Irene Madison; brothers, George Oliver Madison and Gary Lynn Madison.
Serving the family as pallbearers will be Clay Madison, Clint Madison, Lee Madison, Mike Madison, Ridge Madison, Neil Watson, Cody Blissett and Brad Ponton.
Visitation will be held Friday from 12 noon - 2 PM service time at Goldens.