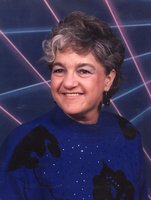 Paula "Polly" Bezzeard
Funeral services for Mrs. Paula "Polly" Bezzeard, age sixty-nine, are scheduled for 10 AM Wednesday, March 6, 2019, in the chapel of Golden Funeral Home with Bro. Jerry Stuckey officiating. Interment will follow in Carter Cemetery.
Mrs. Bezzeard, a Bait stand owner and member of Bonne Idee Assembly of God, passed away Monday, March 4, 2019. She was a loving wife, mother and grandmother to her family. Mrs. Bezzeard loved the outdoors and enjoyed gardening and raising chickens. She enjoyed dealing with her customers at the bait stand, and they loved her.
She is survived by her husband of thirty years, James Bezzeard; children, Jimmy Bezzeard, Chris Bezzeard, Jamie Bezzeard, Melody Forshee and Lillian Bezzeard; siblings, Bud Johnson and wife Cindy, Tim Johnson and wife Bernice, Linda Beason and husband Wayne, Debra Gentry, Judy Evans and husband David; grandchildren, Gabrielle Bezzeard, Harliegh Bezzeard, and Cayden Carruth; and great-grandchild, Raiden Bezzeard.
Mrs. Bezzeard is preceded in death by her parents, Land Johnson, and Sue and Camille Doyon; brother, R.M. Johnson; sisters, Pat Butler, Phyllis Brockman and Roberta Smith.
Visitation will be held Tuesday, March 5, 2019 from 5 PM - 7 PM at Golden Funeral Home.