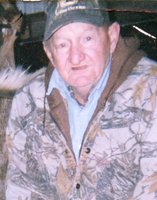 Roy Stecile "Pappy" Jones
Funeral services for Mr. Roy Stecile "Pappy" Jones are scheduled for 2:00 p.m. Thursday, March 14, 2019, at the Bastrop United Pentecostal Church with Bishop A.J. Fulton and Rev. Dwight Fulton officiating. Interment will follow in Boyd Hedge Cemetery in Crossett, AR. The family will receive friends Wednesday, March 13, 2019 from 5:00 p.m. until 7:00 p.m. at the church.
Mr. Jones was born on May 7, 1944 and went to heaven March 10, 2019, at the age of 74. After fighting a hard battle, he is now in the arms of our heavenly Father. He worked at the International Paper Company in the Liquid Packaging Division for many years.
A special message from Pappy:
"I have put on a new garment where sickness and suffering is no more. Although flowers are welcome, I would like nothing more than for you to make a contribution to our church, Bastrop United Pentecostal Church, to go towards Youth Quake, which is a legacy that will live on and on!"
Mr. Jones is survived by his wife, Deborah Jones of Bastrop, LA; children, Wendy Parker and husband Fred of Bastrop, LA, Becky Brown of Columbia, LA, and Roy "Bubba" Jones, Jr. and wife Rhonda of West Monroe, LA; grandchildren, Natallie Carpenter, Kenneth West, Jessica West, Jonus Brown, and Noah Brown; great grandchildren, Lillian West and Emily West; step children, Christy Meador of Sterlington, LA, and Michelle McKoin and husband Jason of Bastrop, LA; step grandchildren, Elana Meador, Jacob McKoin, Jayden McKoin, and Jase-Michael McKoin; sisters, Leota Beard and husband Wayne, Marie Estess, Susan Voss and husband Ray; brothers, Roger Dale Jones and wife Betty, and John Hopkins.
He is preceded in death by his late wife and mother of his children, Barbara Jones; parents, Lizzie Dale and Stecile Jones, and Inez Jones; brothers, Sammy Jones, Robert Jones, and Lawrence Hopkins.
Serving as pallbearers will be Jason McKoin, Cliff Gee, Bro. Randy Hawthorne, David Barton, Eddie Gorden, Will Stover, and Michael Travis. Honorary pallbearers will be Bro. Doug Barton, Bro. John Daugherty, Bro Jerry Barton, Bro. Doug Ramer, J.T. Jones, and Bro. James "Chubby" Hawthorne.