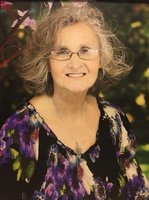 Charlotte W. Fortner
Funeral services for Mrs. Charlotte W. Fortner are scheduled for 2:00 PM Tuesday, May 14, 2019 at the Trinity Assembly of God Church, with Bro. Kenneth Pack officiating. Interment will follow in Carter Cemetery. There will be a time of visitation from 12 noon - 2:00 PM service time at the church.
Mrs. Fortner passed away Saturday, May 11, 2019, at the age of seventy-seven.
She was a homemaker, and a retired bus driver and substitute teacher. She loved her family dearly and they were her heart. She was a loving, caring and praying mother and granny. She was a member of Trinity Assembly of God Church for thirty years, where she was a faithful and dedicated worker to the Lord and her church family.
She is preceded in death by her parents, Fred and Vivian Wilson.
Survivors include her husband, Jessie Fortner; daughters, Renee Fortner, and boyfriend Randy Wooten, and Kricket Fortner; sons, Burl Fortner, and wife Janet, and Randy Fortner, and wife Angie; step-daughter, Renee Coussou; special friend, Cebelle Willams; brother, Jim Wilson, and wife Regina; grandchildren, Jay Crymes, and wife Amberlie, Brianne Gray, Matthew Fortner, R.J. Fortner and girlfriend Brittany Wallace and children Zayden and Kolston, and Jacob Fortner; and great-grandchildren, Shelby Crymes, Colton Crymes, Zy Thompson, and Carleigh Fortner.
Her grandchildren and Mike Aldridge will serve the family as pallbearers and honorary pallbearers will be Randy Wooten, Barry Ryder, and Larry Carter, Jr.