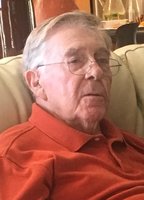 Edward Russell "Pete" Henry
Funeral services for Mr. Edward Russell (Pete) Henry are scheduled for 11:00 AM, Monday, May 20, at Golden Funeral home with Reverend Lisa Mayo officiating. Interment will follow in the Memorial Park Cemetery. Visitation will precede the service, beginning at 10:00 AM, until service time.
Mr. Henry was born on July 9, 1933, in Calhoun, Louisiana, to Louise Moore and Russell Edward Henry. He passed away Friday, May 17, 2019, at the Northeast Louisiana War Veterans Home, at the age of eighty-five
Mr. Henry was raised by his mother, Louise Moore. His mother was born on April 29, 1914 in Mangham, Louisiana. She was the daughter of Mattie Lou and Albert Moore. His grandfather, Albert Moore, gave him the nickname of Pete, and it stuck with him throughout his childhood and into adulthood. Mr. Henry wrote of his grandmother that she was, "very fine, respected, polite, proper, and loved. She passed on his birthday in 1951. Of Albert Moore, his grandfather, Ed wrote that he was, "generous, caring, and probably the finest man I've ever known." Ed lived for a time during his childhood, on his Aunt Janie Sims' and Uncle Aral Sims' 40-acre farm in the Calhoun area. He often spoke of his time with Aunt Janie and Uncle Aral as some of the happiest of his life. Uncle Aral taught him how to fix things and build things, and Aunt Janie taught him about God and being a good person.
Ed attended several different area schools since he and his mother moved often, among them Mitchell School, Crosley Elementary, Calhoun School, Ouachita High School, and Neville High School. He said he either walked to school or rode his bike, or later his motorcycle, for each school with the exception of the years he attended Calhoun. Because the family farm was so far out, he was able to take to the bus to school when he attended there.
Ed's first job was for the Monroe News-Star World delivering papers on his bicycle or motorcycle. He delivered one paper in the morning before school and one in the afternoon after school. For this he received $5 per week and he was very proud of his income.
After high school, Ed enlisted in the United States Navy. He served during the Korean conflict. He was very proud of his service and the fact that the Navy had allowed him to see the world.
After his tenure with the Navy, Ed returned to Big Spring, Texas, where his mother lived, and began his work with Montgomery Ward. While there he met the love of his life, JoAnn Baker. After only five weeks of dating, the two married on July 17, 1954. He often said that JoAnn was the prettiest woman in the world, and that he was attracted initially to her soft voice. While in Big Spring, the couple's first two children were born, Joni Kay Henry and Richard Albert Henry.
Montgomery Ward transferred the Henry's to Kansas City, Missouri, San Antonio, Texas, and eventually to Monroe, Louisiana. Ed was a store manager for Wards. Their third child, Edward Brian Henry, was born in San Antonio. Upon leaving Montgomery Ward, Ed began working for International Paper Company in Bastrop, as a carpenter. He worked there until his retirement.
Mr. Henry is survived by his wife of sixty-four years, JoAnn Baker Henry, two sons, Richard Albert Henry and his wife Debbie, Edward Brian Henry and his wife Sharon Duncan Henry, one daughter, Joni Kay Noble, six grandchildren, Laura Noble of Charlotte, North Carolina, Jack Henry Noble and wife Sondra of Nashville, Tennessee, Richard Albert Henry II, Raeghen Henry, Madelynn Henry and Leighanne O'Dowd, all of Ponchatoula, Louisiana. Mr. Henry had one great granddaughter, Helena Elizabeth Noble of Nashville, Tennessee.
Serving the family as pallbearers will be John Lang, Lester Green, Charlie Coody, Gerald Weems, Larry Crenshaw, Howard Carver, Boogie Roberts, and grandsons, Ricky Henry and Jack Noble. Honorary pallbearers will be Whit Broussard, Felix Brown, Lavelle Vining, Donald Glossup, Hillary Duncan, Paul Dark, and Dr. Jack Noble.