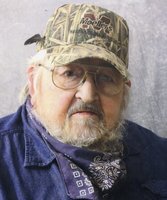 Jerry A Armfield
Memorial funeral services for Mr. Jerry A. Armfield, age 74, are scheduled for 2 PM Friday, June 7, 2019 at Golden Funeral Home with Rev. Newton Smith officiating. Inurnment will be held in Carter Cemetery. Visitation will be held from 6 PM until 8 PM, Thursday, June 6 at Goldens.
Mr. Armfield, a Bastrop mechanic and truck driver, passed away Monday, June 3, 2019. He loved his grandchildren and loved spending time with them. He loved picking on his sister-in-laws, joking and carrying on with them as well as all of the other residents at the nursing home. He loved woodworking, wood carving, driving a semi truck and especially his Harleys. He was a member of the Morehouse CB Club for over ten years. Mr. Armfield just loved life in general and due to his inviting demeanor and personality he never met a stranger.
He is survived by his wife of 51 years, Arlene Armfield; daughter, Rebecca Hunt and husband Perry; son, Jarred Armfield and wife Han; grandchildren, Lara Maynard, Shelby Lee, Marshal Lee, Baylee Hunt; great grandchildren, Addie-Grace Maynard, Lorelai Maynard; brother-in-law, Andrew Deer and wife Maritza; sister-in-law, Jane Deer West; nieces and nephews, Christine Deer, Chris Deer, Julia Deer, Jenifer Deer, Richard Deer, Kimberly Deer, Michael Deer, and Jeremy Deer.
.
Mr Armfield is preceded in death by his parents, Dillard and Lois Armfield; daughter, Kelli Armfield; and brother-in-law, AJ Deer.