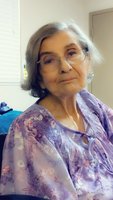 Joyce Carolyn Wall
Funeral services for Mrs. Joyce Carolyn Wall, age 79, of Bastrop are scheduled for 2 PM Saturday, June 8, 2019 at Trinity Assembly of God with Bro. Kenneth Pack officiating. Interment will follow in Memorial Park Cemetery under the direction of Golden Funeral Home. Visitation will be held from 5 PM until 7 PM Friday, June 7 at Trinity Assembly of God.
Mrs. Wall, a retired caregiver, passed away Wednesday, June 5 2019. She loved her family dearly and she never met a stranger. She was a regular attendee of Trinity Assembly of God where she was a member.
She is survived by her daughter, Roxane Wall-Gill of Bastrop, LA; sons, Rocky Wall and wife Wendy of West Monroe, LA, Daniel Stone Wall of Colorado Springs, CO; grandchildren, Christopher Gill, Haleigh Gill, Magen Harkness and husband Blake, Sandy Boyett and husband Landon, Sierrah Wall, Amethyst Thrasher and husband Blaine, Camille Evans; great grandchild, Zvayah Thrasher and numerous extended family and friends.
Mrs. Wall is preceded in death by her husband, Charles "Dub" Wall; parents, Samuel and Vivian Quinn; brothers, Palmer Williamson and Roger Jackson; sister, Patricia Stanford; grandson, Alex Gill..
Serving as pallbearers will be Richard Pace, Ronald Chunn, Chris Deshazo, Blake Harkness, Dane Williamson, and Michael Traxler.