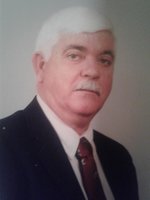 Jimmy Eugene "Jim" Dunlap
Jimmy Eugene Dunlap (Jim) passed from this life Saturday June 8th, 2019 in Camp Wood, Texas under the loving and final care of his wife, Sherryl O'Neal Dunlap, sister - Charlotte and brother - Eddie. He was seventy years old.
The first son of Hershel E. Dunlap and Mable Ray Ragan Dunlap, born in Lubbock, Texas; Reared in Garland, Texas, he was a 1967 graduate of Garland High School. He received a Bachelors Degree in Forestry in 1971 from Stephen F. Austin University in Nacogdoches, Texas. A long career in forestry of timber procurement in Louisiana led him to Olla, Urania, Bastrop and Bernice. Jim was also a 3rd degree Master Mason and served as master of the Masonic Lodge (Mount Gerizim #54) in Bastrop. Upon retirement, he moved to Camp Wood, Texas with his wife.
He was a born again Christian and member of First Baptist Church of Camp Wood, Texas and recent member of Crestview Baptist Church of Farmerville, Louisiana.
Jim is survived by his wife Sherryl O'Neal Dunlap; sister Charlotte S. Dunlap and partner Tommy Jay of Ruidoso, New Mexico; brother Eddie R. Dunlap and wife Karen of Decatur, Texas. Daughters Melissa R. Rustin and husband Jay of Ocean Springs, Mississippi; daughter Nina R. Barkley and husband Chris of West Monroe, Louisiana; daughter Jennifer Otts Green and husband John; daughter Amanda Barnett Wilcox and husband Adam. He is also survived by 8 grandsons, 1 granddaughter, 1 great grandson, 2 nieces, and 4 nephews.
Pallbearers will be the grandsons Blake Cooper, Cyler Parrott, Ryan Parrott, Daniel Doster, Devin Doster, Joshua Barnett, and Bruce Barnett.
Services to be at Crestview Baptist Church of Farmerville, Louisiana officiated by Brother Wayne Whiteside on Wednesday June 12, 2019 at 2:00 pm. The family will receive visitors from 5-7 pm on Tuesday June 11, 2019 at Crestview Baptist Church.
Memorial donations may be made to St. Jude's Children's Foundation or to local hospice care.