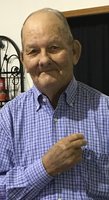 Robert Barthol
Funeral services for Mr. Robert Barthol, age 82, are scheduled for 2 PM Thursday, June 13, 2019 at Victory Tabernacle with Bro. Kevin Sanders, Bro. Michael McFall and Bro. Michael Morgan officiating. Interment will follow in Bonita Road Baptist Church Cemetery under the direction of Golden Funeral Home.
Mr. Barthol,, a member of New Life Family Worship Center (Eudora, AR), passed away Tuesday, June 11, 2019. He loved fishing, gardening, playing dominos and going to church.
He is survived by daughters, Debbie Frisby and husband Gary of Bonita, LA, Sarah Crymes and husband Keith of Oak Grove, LA; son, Donnie Barthol and wife Sarah Jane of Jones, LA; sister, Nell Mason of Wilmot, AR; brothers, Laurie Barthol and wife Clara of Pioneer, LA, Billy Merle Barthol and wife Theresa of Jones, LA; grandchildren, Kenneth Frisby, Sona Roddey, Alesha Dean, Chassady Neal, Dusty Frisby, Amanda Bordenaro, Timothy Bordenaro, Cody Pollock, Amber Robinson, Crystal Barmore, Nicholas Crymes, Ashton Chop; numerous great grandchildren and great great grandchildren.
Mr. Barthol is preceded in death by his wife, Ruby Barthol; daughters, Sona Faith Barthol, Rhonda Smith, Barbara Smith; brothers, I.V. Barthol, Ira Lee (Jack) Barthol; sisters, Lillian Crenshaw and Annie Mae Barthol.
Serving the family as pallbearers will be Cody Pollock, Michael Martin, Mickey Joe, Kenneth Frisby, Michael Jennings and Jerry Crenshaw.
Family will receive friends Wednesday, June 12, 2019 from 3 PM until 7 PM at Victory Tabernacle.