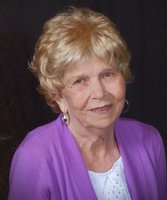 Jean Jones
Graveside funeral services for Mrs. Jean Jones, age 79, will be held at 9:30 a.m. on Friday, July 5, 2019 at Sharon Cemetery, Magee, MS with Rev. Greg Carroll officiating.
Mrs. Jones, a resident of Bastrop and a retired secretary with Morehouse Parish School Board, passed away July 2, 2019. Mrs. Jones is a member of First Baptist Church where she was a volunteer worker and Sunday School teacher for over 20 years with the north Odom Missions. She enjoyed spending time and working in her yard and most especially spending time with her grandchildren and family.
Mrs. Jones is survived by a daughter, Cynthia Summers and husband Leo; sons, James Edward "Eddie" Jones and wife Linda, Jamie Jones, Jr. and wife Xina; sisters, Helen Hamilton, Jerrie Lynn Martin; grandchildren, Bryce Jones, Jordan Jones, Joshua Jones, Jacob Jones, Courtney Walker; and great grandchildren, Luke Jones, Blake Jones, Aurora Jones, Kinslee Jones, Adaline Jones and Ariel Jones.
Mrs. Jones is preceded in death by her husband, Jamie Jones, Sr.; grandson, Andrew Jones; a sisters, Doris Thomas, Carolyn Bowen; and a brother, Charles Ray Sellers.