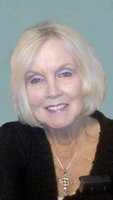 Melba Joy Binns
Funeral services for Mrs. Melba Joy Binns are scheduled for 2:00 p.m. Friday, September 6, 2019, in the chapel of Golden Funeral Home with Bro. Allan Eppinette officiating. Interment will follow in Pine Grove South Cemetery. The family will receive friends Friday, from 10:00 a.m. until 12:00 p.m. at Goldens.
Mrs. Binns, a retired Registered Nurse, passed away Tuesday, September 3, 2019, at the age of seventy-two. She was a member of Harmony Baptist Church and a graduate of NLU, receiving her Bachelor's Degree in Nursing. Mrs. Binns was a caring nurse who loved her family, God, the beach, her dog "PJ", working in the yard and horses.
She is survived by her husband, Frederick L. Binns; children, Miranda Lee Allen, Kim Williams and husband Ron, Todd Johnson and wife Tracy, Freddie Binns and wife Jennifer, Roland Binns and wife Dawn, Rex Binns; twin brother, Melvin Roy Lee and wife Susan; and numerous grandchildren.
Mrs. Binns is preceded in death by her parents, Grady and Alma Lee; and three siblings.
Serving as pallbearers will be Chandler McKane, Garrett Williams, Haden Williams, Rex Binns, Casey Marus, Jr., and Steve Odon.
Honorary pallbearers are: Glen Harper and Dr. Raj Bhandari.
The family would like to say a special "Thank You to the nurses and staff of LeGrand Health Care".
The family requests that memorial donations be made to The Alzheimer's Association at alz.org/donate.