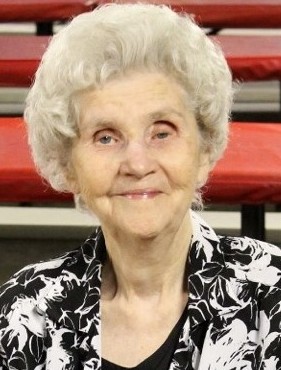 Martha Weddle Crymes
Funeral services for Martha Weddle Crymes are scheduled for 2:00 p.m. Sunday, September 8, 2019, in the chapel of Golden Funeral Home with Bro. Mike Loveday and Bro. Shelton Morgan officiating. An interment will follow the service in Carter Cemetery. The family will receive friends Saturday, September 7, 2019, from 5:00 p.m. until 7:00 p.m. at Goldens.
Mrs. Crymes, a resident of Collinston, LA, passed away Thursday, September 5, 2019, at the age of eighty-nine. She was a member of First Baptist Church of Collinston since 1970 and served as Treasurer for many years. Mrs. Crymes was a librarian at Collinston Library for many years and worked at the polls for almost thirty years. She loved her family and friends and enjoyed spending time with them.
Mrs. Crymes is survived by her children, Larry Crymes, John Alan Crymes and wife Belinda, Karen Crymes Nale and husband James, David Crymes and wife Carlene, Steve Crymes, Bruce Crymes and wife Carol, Lori Crymes Buckner and husband Lance; sisters, Helen Prier, Mae Walton, Nettie Felts, Mary Roach, Nancy Cherico; brother, Sam Weddle; numerous grandchildren, great grandchildren, great great grandchildren, aunts, uncles, nieces, nephews, and cousins.
She is preceded in death by her husband, John H. Crymes; parents, William and Olivia Weddle; brother, Edward Weddle, Andrew Weddle, Harry Weddle; sister, Betty Walton; and grandson, Larry Eugene Crymes, Jr.
Serving as pallbearers will be Bradley Nale, Dustin Crymes, Keith Crymes, David Gore, Todd Hughes, and J.R. Carter. Honorary pallbearers will be Fred Bryan and Steve Weddle.