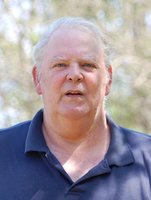 Wilbur Ellerbe "Jr."
Memorial funeral services for Mr. Wilbur Ellerbe "Jr." are scheduled for 2:30 p.m. Saturday, November 2, 2019, at Memorial Park Cemetery.
Mr. Ellerbe, a resident of Bastrop, LA, passed away Monday, October 21, 2019, at the age of sixty-nine. He was a beloved brother who was loved by all and will be greatly missed, but never forgotten.
He is survived by his step-children, Lori Knox, Gwen Garcia, and Wes Fulmer; siblings, Ronald S. Ellerbe of Bastrop, LA, Virginia Brewer and husband Johnie of West Monroe, LA; aunt, Barbara Byers of Ponchatula; cousin, Benny Ellerbe of Springfield, MO; and numerous nieces and nephews.
Mr. Ellerbe is preceded in death by his wife, Barbara Ellerbe; parents, Wilbur Sr. And Lois Ellerbe; and sister, Mary Jane Taylor.
The family requests that donations may be made to the funeral home to offset expenses.