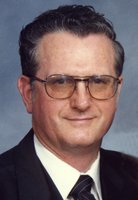 Woodrow Wilson Hudson, Jr
Graveside services for Elder Woodrow W. Hudson, Jr., 85, are scheduled for 11:00 AM on Saturday, October 26, 2019, at the Taylor/Liberty Hill Cemetery near Farmerville, with Bro. Tim Post officiating. Services will be under the direction of Golden Funeral Home of Bastrop. Elder Hudson died 25 October 2019 in Hammond, Louisiana following a lengthy illness.
Born on 4 December 1933 about seven miles east of Farmerville on the Ward's Chapel Road, Elder Hudson attended Hopewell School from 1941 until 1943 before moving with his family to Mansfield and later, Jonesboro. His family returned to Farmerville in 1949, and he attended Farmerville High School, graduating in 1952. He joined the United States Army and served in Korea during the occupation. Afterwards, he worked for Ford, Bacon, and Davis and attended Louisiana Tech and Northeast Louisiana State College, graduating from Tech in 1960 with a degree in Accounting. Later that year, International Paper Company in Bastrop hired him as an accountant, and he worked for them for forty-four years.
Elder Reason W. Rhodes baptized W. W. Hudson, Jr. as a member of Liberty Hill Primitive Baptist Church on 25 April 1953, the same day as his grandfather, Charles H. Hudson. The church licensed him to preach in 1956, and he was ordained as Primitive Baptist minister on 29 May 1960. He served Liberty Hill Church as assistant pastor under Elder Rhodes from 1961–1966, and as pastor from 1966–2016, when the church dissolved. He also served as the pastor of numerous other Primitive Baptist churches in north Louisiana, southern Arkansas, and Texas from the 1960s until the 2010s.
Woodrow W. Hudson, Jr. was preceded in death by his parents, Woodrow Wilson Hudson, Sr. and Fabrice Boatright, and three younger brothers, Jackie L. Hudson, Prescott Hudson, and Ted Hudson.
He is survived by his wife of fifty-eight years, Remona Everett Hudson, son, Timothy D. Hudson, daughter, Cheri Hudson Erwin, three granddaughters, Clara K. Hudson, Abby R. Hudson, and Brittany N. Erwin, and one grandson, Chase M. Hudson. Also surviving him are his sister, Beth Hudson Winstead, together with numerous nephews, nieces, and cousins.