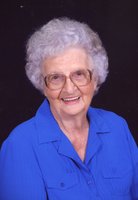 Elizabeth Marcelle Trantham Hartley
Funeral services for Mrs. Elizabeth Marcelle Trantham Hartley are scheduled for 10:00 A.M. Wednesday, November 6, 2019, at Bonita Road Baptist Church with Bro. Todd Wooden and Bro. Casey Johnson officiating. Interment will follow in Bonita Road Baptist Church Cemetery under the direction of Golden Funeral Home. The family will receive friends Tuesday, November 5, 2019, from 5:00 P.M. until 7:00 P.M. at Golden Funeral Home.
Mrs. Hartley was born on November 2, 1926 in Fountain Hill, AR, and passed away November 3, 2019, in Bastrop, LA, at the age of ninety-three. She was a member of Bonita Road Baptist Church in Bastrop, LA, where over the years she was actively involved in Children's Church and Vacation Bible School. She was also involved as a Sunday School teacher, WMU Leader, and served as the Children's Church Director for many years . Mrs. Hartley loved traveling and loved her family dearly.
She is survived by her sons, Lamar Hartley of Gillette, WY and Gary Hartley and wife Sherry; daughter, Vicky Wooden and husband Mike; sister, Sherry Gregory and husband Gene of Monticello, AR; grandchildren, Penny Howie and husband Richie of Crossett, AR, Darron Hartley and wife Becky of Baton Rouge, LA, Missy Hannah of Gillett, WY, DeWayne Hartley and wife Tammy, Karen Kerrigan and husband Tim of Monroe, LA, Helen Brantley and husband Trey of Kingwood, TX, Todd Wooden and wife Mickie, and Amanda Eldridge and husband Trey. She has twenty-one great grandchildren, eleven great-great grandchildren, numerous nieces and nephews, and lifelong friend, Lula Hendry.
Mrs. Hartley is preceded in death by her parents, Zachariah Trantham and Ovie Colvin Trantham Jaggers; husband, Arlie Walter Hartley; sister, Mary Chrystene Daugherty; brothers, Charles Kenneth Trantham and Leroy Jaggers.
Serving as pallbearers will be Darron Hartley, Christopher Howie, Jeffrey Howie, Zachary Hartley, Clayton Wooden, Jerry Daugherty, Marvin Jaggers, Aiden Eldridge, and Colin Kerrigan.