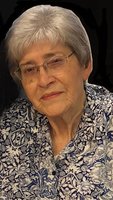 Nora Lee Clark
Graveside funeral services for Mrs. Nora Lee Clark, age 83 of Sterlington, LA are scheduled for 11 a.m. Tuesday, November 19, 2019 at Mulhearn Memorial Park Cemetery in Monroe, LA with Pastor Don Deluckie officiating. Visitation will be held Monday, November 18, 2019 from 5 p.m. until 7 p.m. at Golden Funeral Home of Bastrop. Mrs. Clark passed away peacefully on November 15, 2019.
Nora Clark was born in Campti, LA on May 23, 1936. She was a life-long resident of Sterlington, LA and member of the Sterlington Church of Christ. She enjoyed baking and gardening. She especially had a love for her roses and animals. She was our beloved Mother and Granny-Granny and will be missed dearly by her family and friends.
Mrs. Clark is survived by two sons, Dennis Clark and wife Gladys of Glouster, VA, Doyle Clark and wife Tina of Byhalia, MS; grandchildren, Jennifer Mink and husband Jason, Dennis Clark, Jr. and wife Traci, Janae Webb, Jimmy Clark, Jr., Joni Lee Nelson and husband Trey and twelve great grandchildren.
She is preceded in death by her parents, Frank and Velma McMellon; husband, Jimmy Clark; daughter, Letty Gail Clark; and a great grandson, Daniel Webb.