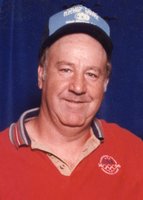 Robert E. Jackson
Funeral services for Mr. Robert E. Jackson are scheduled for 11:00 AM, Tuesday, November 19, 2019, in the chapel of Golden Funeral Home, with Bro. Luther Sanson officiating. Interment will follow in Memorial Park Cemetery. Visitation will be Tuesday beginning at 10:00 AM until the service time.
Mr. Jackson, a resident of Bastrop passed away Saturday, November 16, 2019, at the age of seventy-two. He loved the Lord, and was an ordained minister, a retiree of International Paper Company, and owned an auto paint and body shop for over twenty-five years.
He is preceded in death by his father, Joe E. Jackson and his mother Margie Jackson.
Survivors include his fiancé Cathie Winnon; sons, Robert E. Jackson III, Tedd Barfield, and Timothy Mark Barfield; sister, Joann Wiley; brother, Kenneth Jackson; six grandchildren; eight great-grandchildren; and numerous nieces and nephews.