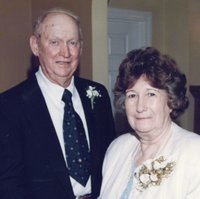 Marvin Lee McKoin
Funeral services for Mr. Marvin Lee McKoin are scheduled for 11:00 a.m. Tuesday, November 26, 2019, in the chapel of Golden Funeral Home, with Rev. Terry Young officiating. The interment will follow at Pine Grove Baptist Church Cemetery. The visitation will be held from 5:00 p.m. until 7:00 p.m. Monday, November 25, 2019 at Goldens.
Mr. McKoin, a retired Rural Postal Carrier and Farmer, passed away Tuesday, November 19, 2019, at the age of ninety-seven. He was a wonderful husband, father, grandfather, great grandfather, and great-great grandfather. He was totally devoted to his family and community. Mr. McKoin was a World War II Veteran having served in the 101st Airborne, the "Screaming Eagles", and also the 327th Glider Infantry.
He is survived by his daughters, Jackie Young & husband George of Monroe, LA, Cindy Peralta & husband Alfred of Wilmot, AR, Bessie Reynolds & husband Kevin of Wilmot, AR; Sons, Lee McKoin of Bonita, LA, Dallas McKoin & wife Christina of Wilmot, AR, Steven McKoin & wife Jan of Jones, LA; numerous nieces and nephews; twenty-five grandchildren; 50 great grandchildren; numerous great-great grandchildren.
Mr. McKoin is preceded in death by his wife, Lela "Rita" McKoin; Parents, Bessie and Polk Dallas McKoin; daughter, Dianne McKoin; Daughter-in-law, Yvonne McKoin; Grandson, Jeffery Scott McKoin; Granddaughter, Stormi Ober; Siblings, Preston McKoin, Irene Borne, May Dillon, Lillian Cates, Leslie McKoin, Cecil McKoin, P.D. McKoin, Ernestine Crook, and Helen Kovak.
Serving as pallbearers will be Mr. McKoin's grandsons. Honorary pallbearers will be Kelsey McKoin, Scott McKoin, Dr. Daniel Crook, Dr. Louie Crook, and Ken Kovak.
In lieu of flowers, donations may be made to Pine Grove Cemetery.