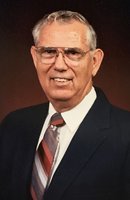 Charles Wayne Moore
Funeral services for Mr. Charles Wayne Moore, age 85, are scheduled for 1 PM Thursday, December 5, 2019 at Bethel Baptist Church with Bro. Tim Post, Bro. Jamie Pullin and Dr. Phil Sigman officiating. Interment will follow in Beekman Cemetery under the direction of Golden Funeral Home. Visitation will be held Wednesday, December 4 at from 5 PM until 7 PM at Bethel Baptist Church.
Mr. Moore attended schools throughout NE Louisiana while his dad pastored many churches and farmed in the area. He helped his family farm, until he worked at Stephenson Chevrolet and then became a milkman in Bastrop, La. He served in the National Guard for 6 years. He started hauling pulpwood before he began his career at International Paper in Bastrop before moving to Houston, Tx in 1966 and retiring from International Paper Company in 1994. He loved the Lord with all his heart and was an active member at Bethel Baptist Church. His Men's Sunday School Class was very special to him. He has been known to play a mean hand of Rook or Dominos with family and friends over the years. He was a novice carpenter where he learned the skills of carpentry and auto mechanics from following Cecil Lilly. Later, he built a number of his family homes in Beekman, Bastrop, Dayton and Kenefick. He raised Arabian horses with his sweet wife, Libba, before her passing and took great pride in the care of his yard. His pride and joy was the lives of his grandkids and great grandkids. He always wanted to know what they were up to or what their latest accomplishments were. He was blessed to have had 9 wonderful years with his wife, Jackie. He adored her and lived a happy life until his passing.
He is survived by his wife, Jackie Kinney Moore; Children, Wayne Moore, wife Regina of Liberty, Tx; Sylvia Hebert, husband Keith of Pt Arthur, Tx; Step-children, Veronica Sturdivant, husband John, Sue Ann Pullin, husband Terry, Ralph (Buddy) Kinney Jr, wife Marty; Daughter-in-law Goldie Kinney; Sisters, Dorothy Spillers, West Monroe, LA, Mary Lane, husband Martin Jasper, Tx; Grandchildren, Dawn Hebert Roque, husband Jorge of Groves, Tx, Brandon Hebert, wife Stormie of Baton Rouge, LA; 5 great grandchildren, William Roque, Maximus Roque, Charlie Roque, Dawson Hebert, and arriving soon, Denver Hebert; a number of step-grandchildren, Phillip Curry and wife Yari, Stephanie Barnett and husband Robert, April Alfaro and husband Andrew, Elizabeth Redding and husband Marc; step great-grandchildren, nieces, nephews and his beloved dog, Susie.
There have been a few special people in his life throughout the years; Pat Williams, Jan Jones, Kristen Brooke Wallace, and Caroline Oliphant. You meant the world to him!
Mr. Moore is preceded in death by his wife of 51 years, Mary Elizabeth (Libba) Hubbard Moore; parents, Rev. Charlie Lee Moore and Clara Mae Powell Moore; Brother, Clarence E Moore; Brother-in-law, B L Spillers; Step-son, Lawrence Kinney.
Serving as pallbearers will be, Stephen "Butch" Musgrove, Ray Wilkerson, Lloyd W "Buddy" Richards, Jr., Hinkston "Hinky" Hudson, Johnny Hughes and Dexter Bryan.
The family requests that memorials be made to Bethel Baptist Church, Louisiana Baptist Children's Home or American Cancer Society.