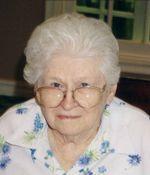 Obituary of Minta Speir
Funeral Services for Minta B Speir, 92, of Bastrop, will be at 2:30pm, Thursday Sept. 9, 2004, at Golden Funeral Home Chapel, with Rev. Roy B. Moore officiating. Burial will follow in Carter Cemetery under the direction of Golden Funeral Home.
Miss Speir passed away Sunday, Sept. 5, 2004 at The Arbor of Bastrop. She was born August 1, 1912, in Collinston, LA to Joseph William Speir and Seleta Bilberry Speir. She is also preceded in death by her 2 sisters, Elizabeth Speir Treen, and Lee Otis Speir; and her 3 brothers, John, James, and Conner. Miss Speir was a teacher in the Morehouse Public Schools for more than 30 years, many of those years at East Side Elementary in Bastrop and at Cherry Ridge School in Bastrop, where she also served as principal. She was a member of First United Methodist Church of Bastrop, Daughters of The American Revolution, and Delta Kappa Gamma.
She is survived by nephews, John Speir Treen and David C. Treen; nieces, Lee Otis Shanks, Marilyn Woolley, Mary Frances Rabalais, Connie Mae Gregory, and Ellene Turcotte.
Visitaion will be from 2pm to service time Thursday, Sept. 9, 2004.
In lieu of flowers , contributions to your favorite charity will be appreciated.