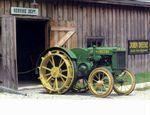 Obituary of Sr. Tilbury
Funeral Services for Floyd N. "Bud" Tilbury, Sr., 85, of Bastrop,LA, will be Monday, Sept. 20, 2004, at Golden Funeral Home Chapel with the Revs. Jim Ingram & L. H. McCollough officiating. Burial will follow at Memorial Park Cemetery under the direction of Golden Funeral Home.
Mr. Tilbury passed away at his residence, Saturday, Sept. 18, 2004. He was a veteran of WWII having served in the Army, and a member of First Baptist Church of Bastrop. He also loved playing baseball, and played professionally with the Atlanta Crackers, a farm team of the Atlanta Braves. He will be remembered as the best loving husband, father, and family man that ever lived.
Mr. Tilbury is survived by his wife, Joyce Tilbury; 2 daughters, Betty Fulmer & husband Harry of Bastrop, Brenda Frantz & husband Dugan of Bastrop; 3 sons, Bud Tilbury, Jr. & wife Donna of Atlanta, TX, Brad Tilbury & wife Tavie of West Monroe, LA, Cary Tilbury, Sr. & wife Kristy of Bastrop; sister, Carolyn Rockwell & husband Bill of Alexandria, LA; 12 grandchildren; and 9 great grandchildren. Mr. Tibury is preceded in death by 3 brothers, H.L., Doyne, & Norman Tilbury.
Serving as pallbearers will be his grandsons, Lance, Barry, Chad, & John Cary Tilbury II; Frank, Keith, & Kris Fulmer; J.J. Goudeau, & Keith Hammonds. Honorary pallbearers will be his granddaughters, Stacy Hammonds, Miranda & Chelsea Tilbury.
Visitation will be 4-8pm Sunday, Sept. 19, 2004, at Golden Funeral Home.