Golden Funeral Home will assist in filing for all Veterans Administration benefits. In recognition of your loved ones United States military service (Army, Navy, Air Force, Marines, Coast Guard, National Guard, etc.) you could be entitled to receive funeral benefits including but not limited to a burial flag, burial allowance, honor guard services with folding of the flag and taps, veterans marker and other survivors compensation.


Burial Flags

*We will assist you in obtaining a burial flag for your honorably discharged veteran.
Why Does VA Provide a Burial Flag? A United States flag is provided, at no cost, to drape the casket or accompany the urn of a deceased Veteran who served honorably in the U. S. Armed Forces. It is furnished to honor the memory of a Veteran's military service to his or her country. VA will furnish a burial flag for memorialization for each veteran other than those dishonorably discharged.

Who Is Eligible to Receive the Burial Flag? Generally, the flag is given to the next-of-kin, as a keepsake, after its use during the funeral service. When there is no next-of-kin, VA will furnish the flag to a friend making request for it.
How Can You Apply? We will help you apply for the flag by completing VA Form 27-2008, Application for United States Flag for Burial Purposes.
Burial Benefits
*We will assist you in completing the necessary forms to apply for burial benefits if the veteran is eligible.
At least one of the following conditions must be met:
the Veteran died because of a service related disability

the Veteran was receiving a VA disability pension or compensation at the time of death (monthly check)

the Veteran died while in a VA Hospital

the Veteran died while in a VA Nursing Home Facility
VA will pay up to $700.00 toward burial and funeral expenses (if hospitalized by VA at time of death), or $300 toward burial and funeral expenses (if not hospitalized by VA at time of death), and a $700.00 plot-interment allowance.
VA Headstone, Marker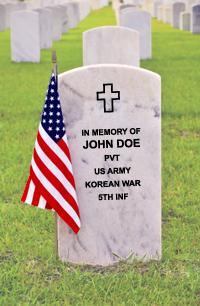 * We will assist you in completing the necessary paperwork for a VA Marker for an eligible veteran.
The Department of Veterans Affairs furnishes upon request, at no charge to the applicant, a Government headstone or marker for the unmarked grave of any deceased eligible Veteran in any cemetery around the world, regardless of their date of death.
Flat markers in granite, marble, and bronze and upright headstones in granite and marble are available. Bronze niche markers are also available to mark columbaria used for inurnment of cremated remains. The style chosen must be permitted by the officials in charge of the private cemetery where it will be placed.
*The Bastrop American Legion, Post 51, has been gracious enough to provide assistance in the setting of these VA markers in our local cemeteries. Special thanks to Chuck Sims and all the veterans who assist in this service!
Survivors Benefits
The Veterans Benefits Administration offers a variety of benefits and services to spouses, children, and parents of Service members and Veterans who are deceased or totally and permanently disabled by a service-connected disability.
Dependency and Indemnity Compensation (DIC)

Parents' Dependency and Indemnity Compensation (DIC)

Survivors' Pension

Dependents' Educational Assistance Program (DEA)

Marine Gunnery Sergeant John David Fry

Home Loan
Contact your local Veterans Administration office for further assistance with survivor and dependent benefits.
Morehouse Parish, Bastrop, LA
Mon, Wed, Fri: 9:30 AM - 4:00PM, Gary L. Haas (Manager), Address 129 N. Franklin St., Bastrop, LA 71220 Phone (318) 283-0841 Fax (318) 283-0891
GOD BLESS AMERICA AND OUR VETERANS