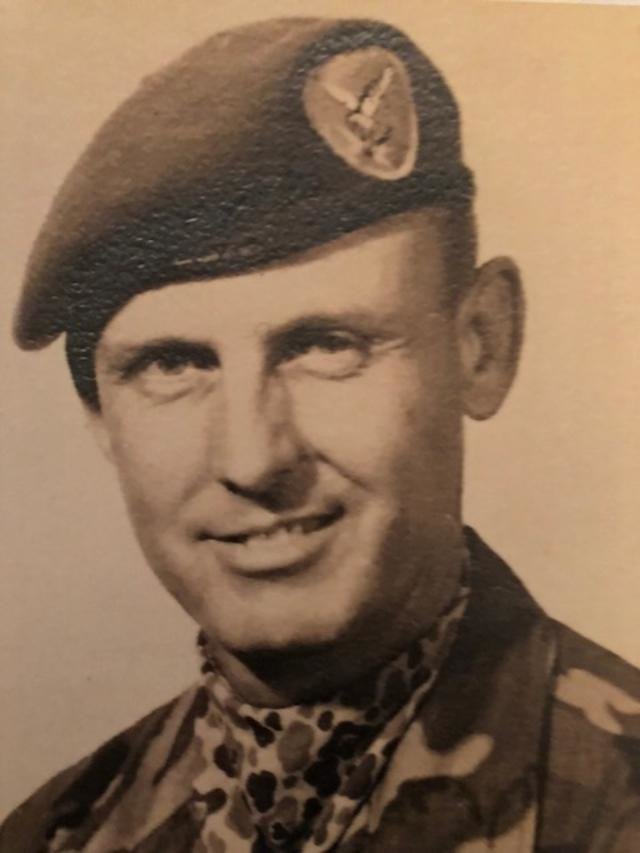 In Memory of
James "Jim" Amerson
Friday, February 9, 2018
Obituary of James "Jim" Amerson
Funeral services for Mr. Jim Amerson are scheduled for 10:00 A.M. Saturday, February 17, 2018, in the chapel of Golden Funeral Home. Interment will follow in Memorial Park Cemetery. Visitation will be held Friday, February 16, 2018, from 5:00 P.M. until 8:00 P.M. at Golden Funeral Home.
Mr. Amerson was born in Mt. Pleasant, TX, on August 3, 1931, the eldest of eight of Mary and Howard Amerson. He went to be with the Lord on February 9, 2018, at the age of 86. He traveled the world while in the Air Force, where he served as a Ranger during two tours in the Vietnam War. Mr. Amerson retired from the service after 22 years and when into the "junk business." He and his wife, Jo, traveled all over the U.S. collecting junk and setting up at flea markets and being a part of the Masonic Lodge. The happiest times were spent with five grandsons who spent the month of July traveling with the grandparents having adventures camping, hiking, taking train trips, walking the streets of New York, Boston, Montreal, Washington D.C. and everywhere in between. When Mr. Amerson got older, his happy times were spent in the cooking committee in the kitchen of Cherry Ridge Baptist Church. Also, he would enjoy the visits from his children and grandchildren, and getting to do things with them.
Those left to mourn his death are his daughter, Jan Elizabeth Roper; son, James H. Amerson, JR.; sister, Jeanette Peek; brothers, Gaylon Amerson, Dwayne Amerson, and Gene Amerson; grandchildren, Keith Jennings, Daniel Harris, Ethan Harris, Jacob Cagney Amerson, and Jeremiah Amerson; great grandchildren, Kaylin Jennings, Kayden Jennings, Zoe Harris, Jacob Amerson, Keeley Amerson and Ethan Harris, Jr..
Mr. Amerson is preceded in death by his wife, Georgia (Jo) Amerson; parents, Howard and Mary Amerson; son, Jacob (Jay) Max Amerson; sisters, Betty Matthews and Mary Powell.
"Miss Me But Let Me Go"
When I come to the end of the road and the sun has set for me, I want no rites in a gloom filled room. Why cry for a soul set free? Miss me a little - but not too long and not with your head bowed low. Remember the love that we once shared Miss me - but let me go. For this is a journey that we all must take and each must go alone. It's all a part of the Master's plan a step on the road to home. When you are lonely and sick of heart go to the friends we know and bury your sorrows in doing good deeds. Miss me - but let me go. (Anonymous)
About Us

Golden Funeral Home has been an independent locally owned funeral service provider since 1924. Let us assist you in all of your funeral service needs. We are the only full service funeral provider in the area with the best services and prices.

Thank you, Staff of Golden

Our Location

2016 East Madison Avenue (Highway 165 N.)
Bastrop, Louisiana 71220
(318) 281-3171

Right across the street from McDonalds restaraunt