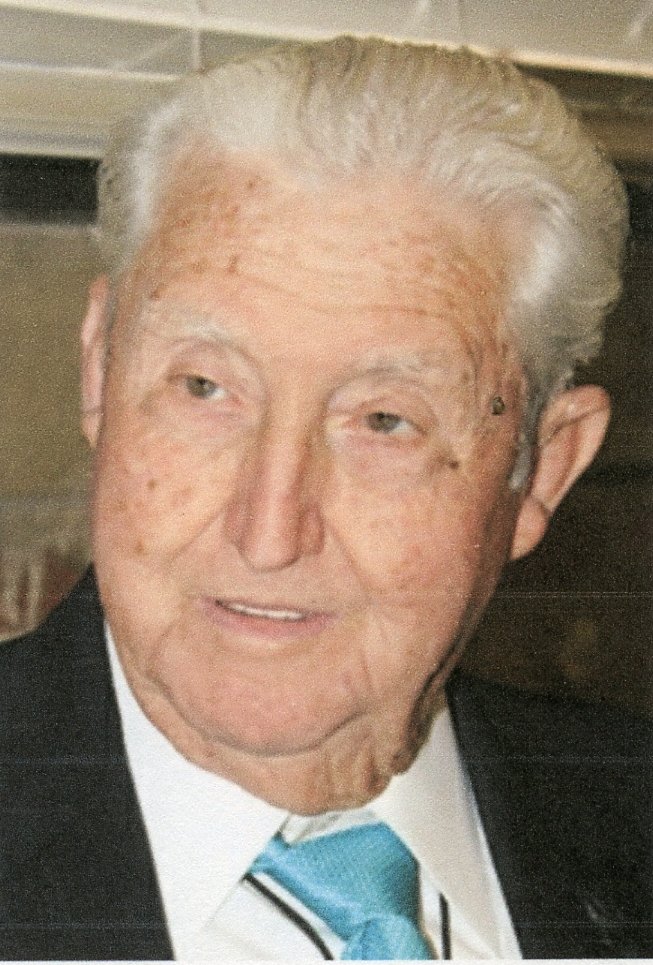 In Memory of
Louis Edward ""Ed"" Yeldell
Friday, November 30, 2018
Obituary of Louis Yeldell
Louis Edward "Ed" Yeldell, 93 years of age, from Log Cabin, Louisiana, passed away on November 30th at home, surrounded by family. Visitation will be at Golden Funeral Home from 5:00 PM until 7:00 PM, in Bastrop, Louisiana, December 4th. Funeral services will be at First Assembly of God, in Bastrop, conducted by Rev. Ezra Cook, Pastor of Lighthouse Ministries, and Rev. Dusty Walker, Pastor of Bastrop First Assembly of God, on December 5th, at 2:00 PM, with interment to follow at Pine Grove Baptist Church Cemetery in Log Cabin, Louisiana.
Ed's birth was on August 12, 1925, in a two room log cabin on the original Yeldell Place, which was homesteaded by his grandfather, Louis Wesley Yeldell Sr, in the 1880's. This site was located on what is now known as Sonny Boy Yeldell Road. His parents were Maude Ivan Alford, and Louis Wesley "Sonny Boy" Yeldell Jr.
As a native, and lifetime resident of Morehouse Parish, he was always proud to tell folks that he was from Log Cabin, Louisiana. Throughout his life his two loves were family and fishing, in that order. A frequent companion, his brother-in-law Otto Winkler and he spent long hours running trot lines in Bayou Bartholomew. When not on Bartholomew, he could be found running trot lines at Bussey Brake Reservoir, where he also enjoyed fishing for bream and white perch.
Seasonally, Ed traveled to Arkansas with Otto, where they hunted geese and ducks, with their friend Mr. Elmer Bock.
Life was not always easy for Ed as he dealt with constant health issues, but throughout, he never complained. It was his accomplished goal to live life honorably, with an ethic of hard work, dependability, and trustworthiness. Honest above all else, a Christian man who loved the Lord with all of his heart, he expressed his faith through all of his endless patience. It is said his infinite patience was like that of Job, making him a wonderful father, grandfather, and great-grandfather.
While a butcher for Bennett & Jackson's Grocery, Ed met and married Ivie Lee Hughes. After 20 years he was forced to take disability and followed with several part-time jobs. Some of his jobs included: School Bus Driver, U.S. Mail Carrier, Morehouse Parish Deputy Sheriff, Pinkerton Security Guard, and Hester's Jiffy Pak. He started his last job about age 70 where he took a job as maintenance man for River City Management of Breaux Bridge, Louisiana. He worked at maintaining five different apartment complexes in northeast Louisiana: Mer Rouge, Farmerville, Marion, Bernice and occasionally Lake Providence, Louisiana. When urged to retire at the age of 82, he tearfully resisted, but soon agreed that his health had made the decision for him.
Anyone who knew Ed would not characterize him as a man of leisure. When not busy with career pursuits, he filled his days with wood working and making Christmas yard decorations. He also enjoyed building martin houses and squirrel feeders. He felt this helped to fill his loneliness followed the death of wife, and love of his life, Ivie Lee Hughes-Yeldell, following after 38 years of marriage, in 1984. He experienced the loss of his parents, Louis Wesley "Sonny Boy" Yeldell, Jr. of Bastrop, Louisiana and his mother Maude Ivan Alford-Yeldell-Waller-Morris of West Monroe, Louisiana. His only daughter, Marsha Kay Yeldell preceded, him in death in 2013.
It is often said "still waters run deep". This saying was especially true with Ed. Most people were not aware of his inquisitive mind that constantly sought to make sense of his universe. Journals containing weather and other incidental notes of the day were kept for many years, including records of wild duck production in nest boxes that he maintained, water temperatures, and related fish catches, as well as, other factors that relate to the natural world. There were few plants, animals, or birds that he could not identify.
Unlike many his age, Ed embraced technology by learning computer skills well enough to continue searching and feeding his insatiable need for information. For him, the computer was a life saver on rainy days and when he could not be active otherwise. He adopted the personal and email name of "Old Man Yeldell, Downtown Log Cabin".
Survivors include his sons Donald Edward Yeldell of Bastrop, LA and wife Rita, Louis Wesley Yeldell and partner Maurice Hinton – whom Ed referred to as his adopted son. He is survived by granddaughter Renee Yeldell Moore Enfield Jimenez, of Bakersfield, California, three grandsons, Brad Yeldell and wife Stacy, of Swartz, Louisiana, Chad Yeldell and wife Emily of Log Cabin, Louisiana, Whit Yeldell and wife Amelia of Winnsboro, Louisiana. Great-granddaughters include Kennedy, Tristen, and Mason Jimenez, of Bakersfield, California, Cailey Yeldell of Swartz, Louisiana and Khloe Yeldell of Log Cabin, Louisiana. Great grandsons Colttan Yeldell of Swartz, Louisiana, (who first recognized Ed as "Old Papaw") Gauge Yeldell of Log Cabin, Louisiana and great grandson Briar Yeldell of Winnsboro, Louisiana. Surviving brother is J.W. Yeldell and wife Martile of Bastrop, Louisiana. Additionally there is his former daughter-in-law Deborah Yeldell-Webb (whom he said would always be his daughter-in-law) of Bastrop, Louisiana, as well as brother-in-law Carl Brodnax and wife Jane of Bastrop, Louisiana, and sister-in-law Billie Brodnax-Goyne of Crossett, Arkansas, as well as numerous nephews and nieces.
Pallbearers will be, Brad Yeldell, Chad Yeldell, Whit Yeldell, James Yeldell, Ricky Yeldell, and John Williams.
Honorary Pallbears are Dr. Gary Jones and the Deacons of First Assembly of God, Bastrop, Louisiana.
People familiar with Ed Yeldell could expect his reply to "How are you? to be, "Terrible thank you". When in fact he was not terrible, nor is he now, but, finally at peace.
The family would like to express their sincere gratitude to Dr. Gary Jones, as well as Tommie Nolan, Dr. Gujjulla, Kim and Mary from Affinity Wound Care Center in Monroe, Louisiana for their special care, attention, and compassion shown to daddy over the last few years, as well as the nurses from United Health Care. Last but not least, the staff of Monroe Surgical, case manager, nurses, and aides for their special attention given to daddy. And last but not least, Caring Hands Hospice, his nurses, Brook and Stacy, and his aide Andrea (the best in the world).
In this day and time very few people begin and live their entire life in one location. It is fitting that Ed will be buried at Pine Grove Baptist Church Cemetery at Log Cabin, Louisiana. So very close to where his wonder-filled life began 93 years before.
Share Your Memory of
Louis
About Us

Golden Funeral Home has been an independent locally owned funeral service provider since 1924. Let us assist you in all of your funeral service needs. We are the only full service funeral provider in the area with the best services and prices.

Thank you, Staff of Golden

Our Location

2016 East Madison Avenue (Highway 165 N.)
Bastrop, Louisiana 71220
(318) 281-3171

Right across the street from McDonalds restaraunt