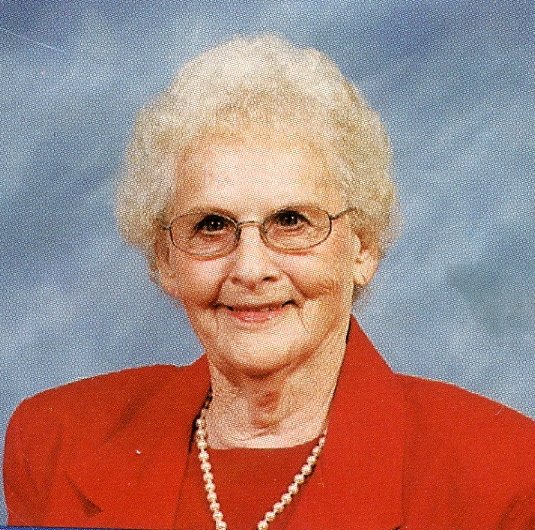 In Memory of
Doris Marie Reddick Goyne
Saturday, December 1, 2018
Obituary of Doris Marie Reddick Goyne
Funeral services for Mrs. Doris Marie Reddick Goyne are scheduled for 2 PM, Tuesday, December 4, 2018 at the Golden Funeral Home Chapel, with Bro. Tim Post officiating. Interment will follow in Oak Ridge Baptist Church Cemetery under the direction of Golden Funeral Home. The family will receive friends Tuesday, December 4, 2018 from 1 PM until 2PM service time at Goldens. Mrs. Goyne, a resident of El Dorado, AR, and formerly of Bastrop, passed away Saturday, December 1, 2018, at the age of ninety-four.
She was born in Lindale, TX on July 7, 1924 to Grady Peden and Cora Mae Tharpe Reddick. She moved with the family of twelve to Louisiana, where she met, and later married Dewey Lee Goyne. He passed away in 1975. Also, preceding her in death were her parents; her son, Douglas Goyne, who passed away on August 11, 2018; six brothers and four sisters; twin granddaughters, Sharon Carr and Karen Cloy; and one son-in-law, Vernon Thompson.
Mrs. Goyne is survived by one son, Jimmy Goyne, and wife Diane; two daughters, Barbara Thompson and JoAnn Hughes, and husband Tommy; daughter-in-law, Joyce Goyne; grandchildren, Keith Winnon, and wife Susie, Daron Goyne, and wife Michelle, Alicia Harrell, Stacey Goyne, and wife Janie, and Wade Goyne, and wife Christi; and great-grandchildren, Chelsee Goyne, Bryar Goyne, Caleb Harrell, Zachary Harrell, Trey Goyne, Ethan Goyne, Shannon Ferrington, Stacy Ferrington, Amber Davis, and Lori Pace
Serving the family as pallbearers Daron Goyne, David Harrell, Stacey Goyne, Wade Goyne, Ethan Goyne, Sean Reddick, Zachary Harrell, and Tommy Winnon. Honorary pallbearers are Rodger Dew, Ben Reddick, Billy Goyne, Keith Winnon, Buddy Winnon, Bryar Goyne, Steve Estep, and Trey Goyne.
A Mother's Heart - Poem By JoAnn Hughes
Jesus came and you were ready, in His arms you did ascend,
It's only the beginning, and definitely not the end.
This you have taught us, preparedness is a choice,
To have Jesus as your Shepherd, you will recognize His voice.
It's not the do's and don'ts so much, He declares,
perfection I don't require,
For no one can be perfect, I love you as you are.
Accept my Son and He will save you, know His ways and try to do them,
Love Him as the King He is, that's all you'll need to do.
Thank you for taking us to Sunday School and church,
It wasn't so easy, but you made it work,
We learned to live and love others,
You did the right things, you are our Mother.
You are seeing family and friends, that you never forgot,
What a reunion you are having, you loved them all a lot.
Now sing and praise God, as you did here on earth,
That's why He knitted you together, at the time of your birth.
We know you had to leave us, your journey here is done,
And what a great job you did, you're our number one!
We must stay here for now, and love each other as families do,
And then in God's timing, we will again see you.
And in the meantime we may cry, this will be the reason why,
We will be missing you dearly, your loving family.
Share Your Memory of
Doris Marie Reddick
About Us

Golden Funeral Home has been an independent locally owned funeral service provider since 1924. Let us assist you in all of your funeral service needs. We are the only full service funeral provider in the area with the best services and prices.

Thank you, Staff of Golden

Our Location

2016 East Madison Avenue (Highway 165 N.)
Bastrop, Louisiana 71220
(318) 281-3171

Right across the street from McDonalds restaraunt