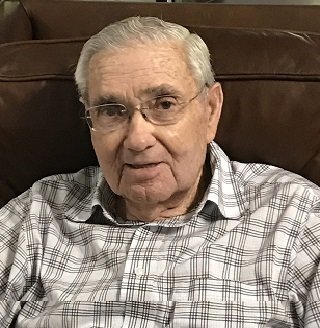 In Memory of
Thelbert Hayman Bunch
Wednesday, January 17, 2018
Obituary of Thelbert Bunch
Funeral services for Mr. Thelbert Hayman Bunch are scheduled for 2:00 PM, Saturday, January 20, 2018, at the chapel of Golden Funeral Home, with Bro. Jimmie Yocum and Bro. Richard Gambill officiating. Interment will follow in Christ Church Cemetery. Visitation will be Friday, January 19, 2018, from 6:00 - 8:00 PM at the funeral home. Mr. Bunch, a retired farmer and resident of Bastrop, passed away Wednesday, January 17, 2018 at the age of eighty-four.
He is preceded in death by his parents, Wesley and Ruby Bunch and grandaughter Yvette West.
Thelbert was born and raised in the Jones-McGinty community. After finishing school, he joined the Army for 2 years. During that time, he married the love of his life, Janet Bolin. Their journey included the birth of their 4 children. Thelbert wore many hats and was involved in many adventures. He was a member of New Hope Baptist Church in Jones, LA for 50 years until moving to Bastrop. There he joined First Baptist Church. He was on multiple Boards and Committees, including Planter's Oil Mill in Pine Bluff, AR, LA Cotton Warehouse in Mer Rouge, the Bank of Morehouse, and the Federal Land Bank to name a few. He also established the 10th Ward Fire Department in Jones, LA.
He was particularly proud of helping to found Prairie View Acadamy and served on the Board for 12 years. Thelbert loved farming and did so his entire life. But his true love was ginning cotton. He purchased a gin in Jones, LA in 1964 and loved every minute he spent there.
In spite of all this, he loved his family and devoted his life to loving, supporting, and encouraging every one. He set the bar high in the example he set for many – family and friends, never wavering from his strong Christian faith. He will be greatly missed by all that knew him.
Survivors include his wife of sixty-three years, Janet Bolin Bunch; children, Perry Bunch and wife Carolyn, of Farmerville, Linda Bunch and husband Tom Wells, of West Monroe, Andy Bunch and wife Hope, of Bastrop, and Ryan Bunch and husband Micah Mahjoubian, of Philadelphia, PA; grandchildren, Janene, Lee, Jenny, Brandon, Henry, Nathan, Courtney, Blake, Mason, Nathan, Rebekah, and Haven; great-grandchildren, Malorie, Matthew, Taylor, Olivia, Lillie, Colton, Adilyn, Braxton, and McKenna; great great grandchildren, Jaycee and Oakley; brother, Dr. Leonard Wesley Bunch; sister, Marilyn Bunch Hudson and husband Doug; and numerous nieces, nephews, cousins, and friends.
Mr. Bunch's grandsons will serve as pallbearers.
About Us

Golden Funeral Home has been an independent locally owned funeral service provider since 1924. Let us assist you in all of your funeral service needs. We are the only full service funeral provider in the area with the best services and prices.

Thank you, Staff of Golden

Our Location

2016 East Madison Avenue (Highway 165 N.)
Bastrop, Louisiana 71220
(318) 281-3171

Right across the street from McDonalds restaraunt